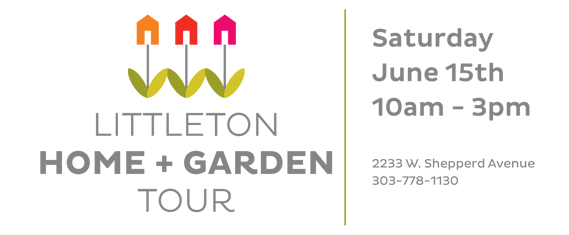 "The residences chosen for the tour were delightful, all unique in their own way and a joy to walk through" -Marilyn
The 2012 Littleton Home & Garden Tour was a great success!  We raised nearly $13,000 dollars for our Summer Youth Program!  And, we want to do it again!  The 2013 Littleton Home & Garden Tour will take place on Saturday, June 15th!  Mark your calendars now.  If you know anyone who might be considering featuring their home and garden, please contact Stacey at sjohnson@cocenter.org or call 303.778.1130.
Become a sponsor of the 2013 Home and Garden Tour!
What is the Littleton Home & Garden Tour?
Step inside some of Littleton's finest and most notable homes and gardens  as neighbors open their doors in support of the Colorado Center for the Blind's Summer Youth Program.   Various home throughout the greater Littleton area will be featured. From historic landmarks and mid-century mods to California contemporaries you are sure to see a variety of architectural styles and periods.
[videoplayer type="yt" vidid="tesKCT7Qnn8″]
Tickets will go on sale May 1st, 2013.  Bring your printed ticket receipt to the Colorado Center for the Blind on the day of the tour to exchange for a wristband that will gain you entrance to each featured home.  This is a self-guided tour.  You will travel to each home in your own vehicle.  If you do not have print capabilities, we will have your purchase information at the Center, or feel free to send an email to sjohnson@cocenter.org or call the Center at 303.778.1130 and we will be happy to email you a printed receipt.  Starbucks coffee, pastries, and lunch will be available for purchase at the Center!
Tickets are $20 in advance, and $25 the day of the event.
Some additional things you need to know
The Tour is designed to be self-guided (your vehicle).  You can visit homes in any order you chose.  All are within an easy drive of one another.  Ticket holders provide their own transportation to and from each home.
Or, consider cycling the route!  All of the homes are in fairly close proximity!  Weather permitting, it is a manageable and enjoyable bike ride to each of the homes on the tour!   The Center will be a good mid point stop for a snack, beverage, lunch and refueling!
The Colorado Center for the Blind and its Legacy Garden will be open for tours during the Home & Garden tour!   Stop by and learn about our world renowned independence training program for blind individuals of all ages.
Please be aware that we must turn the home back over to its residents at 3:00 pm so please watch the time.  No entries will be allowed after 3 pm at any of the homes on the Tour.
Tickets are $20 in advance, and $25 the day of the event.
Download the Home and Garden Brochure (4.2 MB, PDF)
"The tour was so well organized and the homes were fabulous. I appreciated the diversity." Jean
Frequently Asked Questions
How should I plan my route?
A program guide will be available the morning of the Tour at the Center. It will provide a listing of participating Tour homes with relevant information about each residence. This is a self-guided tour so you can start anywhere along the route. The guide will also include advertising and couponing opportunities from local merchants.
Will food and beverages be provided?
Yes. There will be Starbucks coffee and a food truck at the Center from 10am-3pm. They will be serving breakfast burritos and then move into the lunch hour with tacos, chili rellenos, homemade salsas and green chili. All food and beverage items are available for purchase.
Are shoes allowed in the homes?
No. For your comfort and protection of the tour homes, booties will be provided. Please reuse your booties as you travel from home to home.
Thank you to our sponsors!