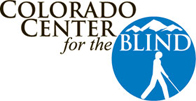 Colorado Center for the Blind
Take Charge with Confidence and Self-Reliance
Save the Date
May 8
For our 2019
Making Connections
That Work for You!
3rd Annual Career and College Seminar
Sponsored by the Colorado Center for the Blind
This year our keynote speakers are both alumni of CCB. Petr Kucheryavyy, formerly Employment Specialist and senior Outreach Specialist at CCB, is Senior Manager at Charter for the Accessibility Desk. Cody Bair is a Certified Public Accountant and is employed as a Business Tax Services Senior Associate for KPMG LLP.
Lunch will be provided.
Location:
Colorado Center for the Blind
2233 W. Shepperd Ave.
Littleton, CO 80120
Check-in:
9:00 to 9:30 a.m.
Program:
9:45 to 3:00 p.m.
You can register for Making Connections right now!

We'll be sending updates and agenda in the next few weeks. See you on May 8!

For more information contact Dan Burke at 303-778-1130, ext. 213, or dburke@cocenter.org.

Phone: 303.778.1130


2233 West Shepperd Ave




Littleton

,

CO

80120




United States



Take Charge with Confidence and Self-Reliance
Web: cocenter.org
Facebook Twitter YouTube
Click the following link to Unsubscribe