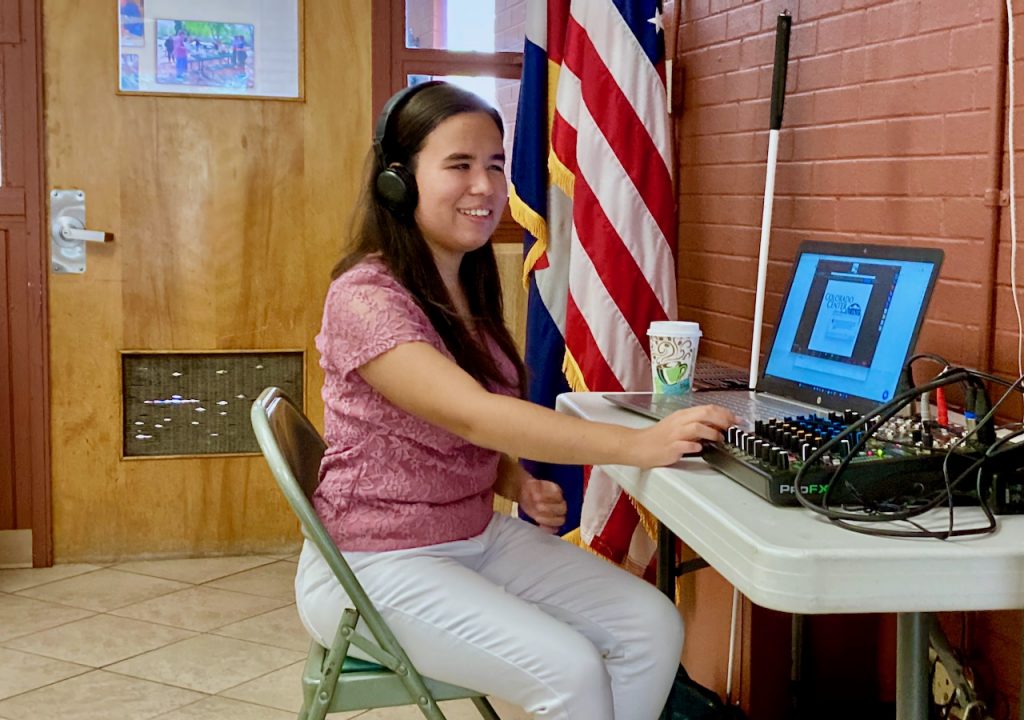 Editor's Note: As we do each year, staff and students at the Colorado Center for the Blind attended the National Federation of the Blind convention during the first week of July. Forty of us traveled to Houston where we joined over 2300 fellow members of the NFB at the Hilton Americas for six days of meetings, networking, presentations, and NFB business such as resolutions, a great exhibit hall with the best in blindness-related assistive technology and other products. There were division meetings and state caucuses, receptions, and open mike night and a concert by the Haymakers, one of whose members is president of the NFB of Kansas. And it was capped off by the banquet on the final evening, July 6 with a rousing address by NFB President Mark Riccobono. Tired but recharged, we checked ourselves out the next morning and headed for the airport and home to Littleton.

That was Friday. On Sunday, Director Julie Deden forwarded the email below to all staff from one of our students. We've had a long-standing practice of of accepting one to two international students per year, and Michelle is our first since the pandemic. From Puerto Penasco in Mexico, she has a degree in Music Recording Technology Design from San Diego State. Her dream job is to work at a concert venue mixing shows or in a recording studio, hence the reference to checking out the mixing board at the convention.
Hi staff,
Michelle is inspirational to all of us. This is exactly why we all go to convention.
Thanks
Julie
—–Original Message—–
From: Michelle Felix
Sent: Sunday, July 9, 2023 1:04 AM
To: Julie Deden
Subject: Thank you, Julie!
Hello,
I would like to express my immense gratitude for the myriad of learning moments, conversations, seminars and great energy I had the privilege to experience at the 2023 national convention!
It was an invaluable opportunity to meet new people, make connections, educate myself on new tech developments, but especially to increase my confidence and independence greatly. Now, if someone invites me to go to LA on my own for the greatest convention of audio and music professionals and manufacturers which happens every January, I am not afraid anymore! I would say yes without hesitation! Or even, I might invite myself!
Thank you Julie, especially, for having helped me through my nerves at your office when I was feeling pretty afraid. There was a host of doubts and I swore I wouldn't be able to find my room each night. But oh my! By the second day I was extremely comfortable with Two or three entire floors, and it was a joy to find meeting rooms on my own and have everything labeled in braille. It was liberating to go alone and do activities with no one watching.
The learning started from the moment I had to take my luggage down the 18 apartment stairs! Working the independence market and doing Spanish interpreting was really helpful because I tried my hand at things I've never done before, and got the chance to help others at the same time. I had a blast!
I appreciated the multiple opportunities to take myself out of my comfort zone, go put my name out there and introduce myself. As an introvert, this is absolutely essential and I am very proud to have pushed myself to do it! I visited the presidential suite. I went up to the sound booth to meet the guy who runs front of house for the general sessions, and got his contact information and of course, to touch the board! The job fair was definitely one of the biggest highlights, and I'm very fortunate to have stopped by your table. I also loved whom you put me with in the banquet, and especially, I had an amazing mentor!! I learned so so so much from Chris [Parsons].
Thank you for these moments. They are truly something I won't forget!
Michelle
Sent from my iPhone