We hope you'll consider volunteering with the Colorado Center for the Blind. Like any active, effective nonprofit the Colorado Center for the Blind depends a lot on the generous donation of time by many volunteers, both blind and sighted.
A number of volunteers assist with our Senior Programs, teaching Braille and daily living skills, as well as contributing to discussions about blindness. You may have skills and interests that we need at the Center.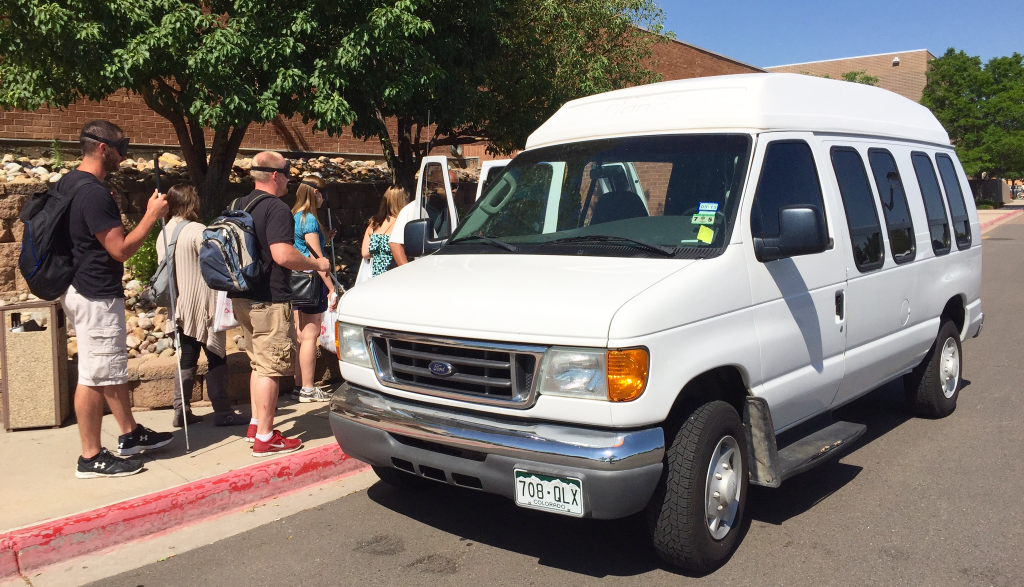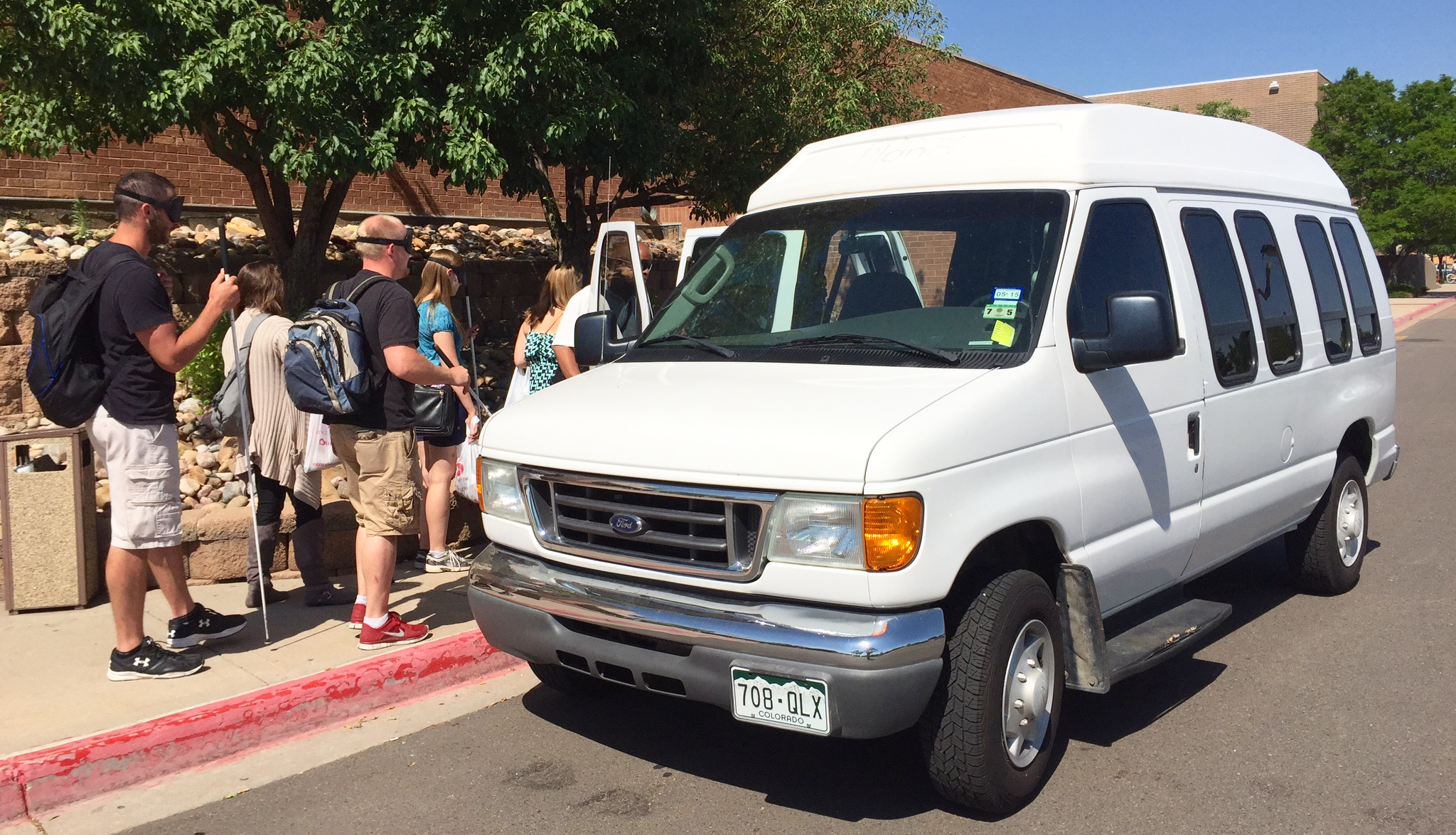 One of the things we ask often of the sighted members of our family of volunteers is to drive. Our volunteers transport students to medical/social services appointments or may drive a staff member to DIA to pick up incoming students for one of our programs. We also enlist our volunteers to drive for our many recreational activities, such as rock climbing, skiing, kayaking, or even a trip to the Western Stock Show.
If you are interested in giving a portion of your time and energy to support the Colorado Center for the Blind, or would like to hear more about volunteer opportunities and ways you could get involved, please contact Chaz Davis by phone at 303.778.1130, (ext. 212,or send an email to cdavis@cocenter.org.
Volunteers Speak
Not only do our volunteers give their time, they sometimes voluntarily give us a plug …
Ed
(Editor's Note: Ed brought this in to us unsolicited one day, and handed it to our front desk man, Robert. He continued to be a volunteer for the Center until moving out of the immediate area.)
I am a Littleton resident who retired early after 30 years working in the Financial Services Industry including my past 20 years at Charles Schwab & Company. Spending many weeks on the road with an unpredictable travel schedule, it was very difficult to be involved in the community beyond financial contributions to various charities I felt made a difference. I knew I could do more but struggled with my schedule.
About 5 years ago while on a run here in Littleton I met a 19 year old blind student who was a little turned around. (RTD was in the process of improving a bus stop and this student didn't feel the usual bench or sign post). While walking him back to the bus he told me what the Colorado Center for the Blind teaches and why he came to Littleton. He had successfully completed High School and was looking to improve his level of independence before moving on to college in a dorm with a sighted roommate. He was not looking for a handout or special preference, just the skills to be independent and productive in our fast moving society!
If he could have seen me at that moment he would have noticed goose bumps and a big smile. I asked him if it was scary coming here alone and if he missed his parents?
"Are you kidding me?" he shot back. "This is the first time living away from my parents with kids my own age…I am having a blast!"
I knew I was talking to any normal 19 year old, but one with very focused goals.
Two years ago and nearly retired, I called volunteer coordinator Robert Dyson at CCB who took me on a tour of their Littleton facility and talked with me about areas where I may be able to help. I knew immediately during my visit that I wanted to volunteer. I truly felt this was a place that had a great sense of purpose and the ability to improve the lives of students brave enough to attend.
I have now helped as a volunteer for about 2 years. Most of my activities include driving students and staff on field trips, ski, river raft and rock climbing adventures or on special airport pick-ups or drops for new or graduating students. We typically participate with students and staff in these activities as well. I truly enjoy my interactions with staff and students in The Center and I am always pleasantly surprised when they recognize me by name just from my voice when I visit. It is fun to call them by name and interact with my many new friends here in our wonderful community of Littleton. I have been honored to be invited to attend a number of graduation ceremonies of students as they continue on their way back to college or jobs with a new level of skills and independence!
As we all grow a little older our goals and priorities change in life. I think it is common that we migrate from goals of success toward new questions of significance. Did we make a difference? And while I have certainly not achieved this "make a difference level" yet, I do feel that I am helping in the right place to address this goal.
Lisa
(Editor's Note: Lisa volunteered for us for a number of years. She only left when a family health issue required her time and attention.)
"I came to the Center after seeing some students on the street that I wanted to give a ride to during a snow storm. I didn't give those students a ride that day, but eventually made my way back to the Center to find out more.
At the time, I was working with a contentious population of clients. Coming to the Colorado Center for the Blind, where they are always so appreciative of me volunteering was very uplifting at the time. Contrary to being with my clients, I felt like being around the students. It was like being around normal, happy people – because they are. They are fun and receptive individuals who are really adventurous in their journey to expand their lives.
Since retiring from my former profession, volunteering at the Center contributes to my feeling productive and useful."