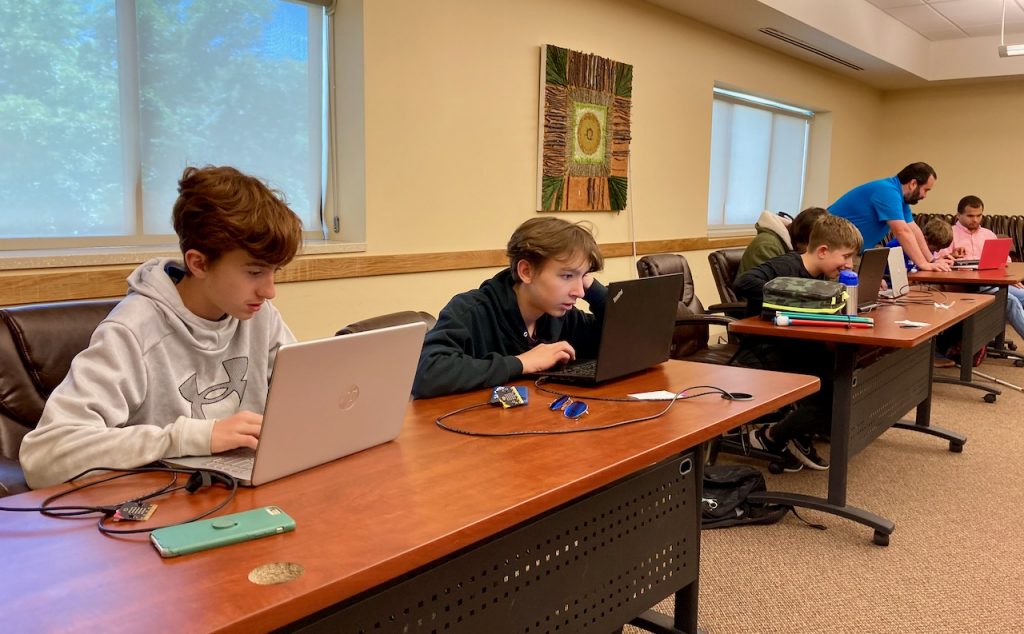 It may have been the worst speech synthesis since, well, the VoTrax (circa 1987), but it sounded beautiful because this room full of blind students had coded their BBC Microbits themselves to produce that "Hello!"
It was all part of our two-day camp with Cyber.org's Project Access on coding/robotics here at the Colorado Center for the Blind. We had ten participants – a mix of middle and high school students and our younger Independence Training Program (ITP) students.
Cyber.org provides coding and robotics training to youth across the U.S. to promote interest in cyber security careers. Cyber.org's Project Access specifically focuses on providing opportunities to teach blind students from ages 13 to 21 using accessible technologies and nonvisual strategies, in partnership with Louisiana Tech University. It is funded by the Cybersecurity & Infrastructure Security Agency (CISA).
So, what did we all learn? Variables, functions, "if" statements and more. We made the A button sound a middle C note, and the B button sound a D when pressed.
Oh, and there was the speech. For obvious reasons, blind people are very familiar with synthesized speech, so this was an especially fun coding task. It turned into a challenge to see who could make the Microbit speak the most intelligible sentence by adjusting things like speed, mouth, throat and pitch.
"Hello, my name is Matthew" was the most intelligible and the winner. So naturally, like all good coders, we copied Matthew's settings.
The takeaways were that blind people can easily do coding with accessible tools and training. Participants shared information about which screen reader settings were working best for them, as well as helping one another out with the assigned tasks. Who knows? Experiences like this – experiences that lead to success – can spark an interest, a hobby, or a passion that lend themselves to career choices down the road.
But for now, the biggest takeaway of all was the fun and sense of achievement for all the kids!
Audio Recording of Microbit
Play this audio file Daniel created that mashes together the musical notes and speech coding students learned in the Project Access coding camp.
Really, you cant' understand it? Well, I said it was awful speech! But more importantly, it's perfect for blind kids to play with as they learn to code.
We'll let you off the hook, though. Between the musical notes, the Microbit synthesizer is saying, "It's good to see you again!" and "My name is Microbit," and "This is the end."