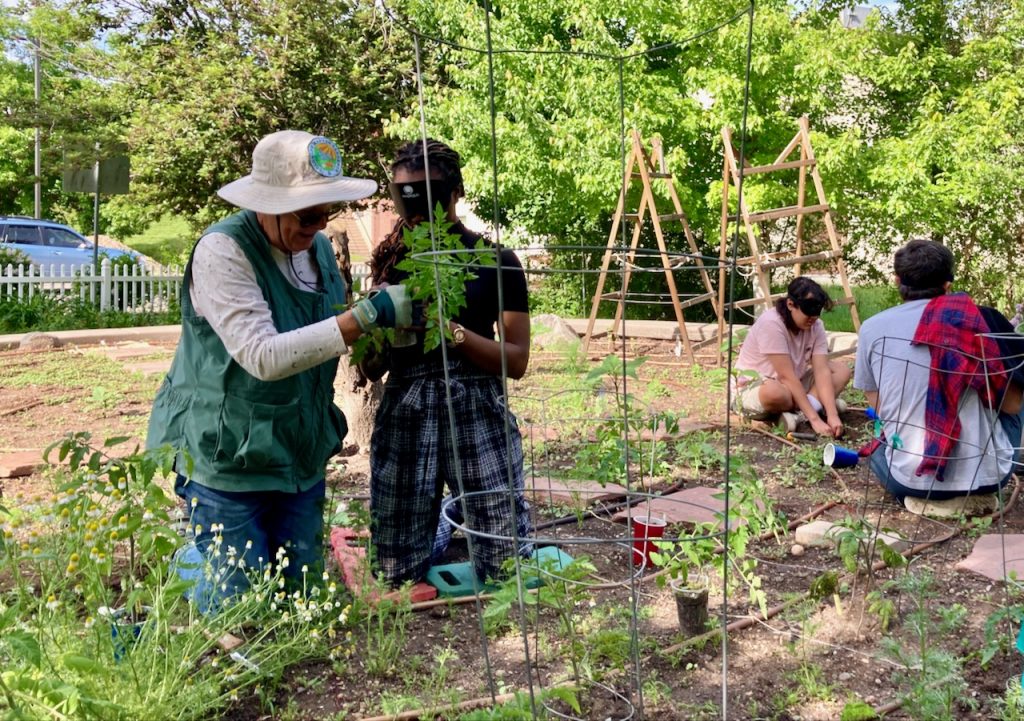 (Editor's Note: This email was forwarded to Director Julie Deden from JoAnne, one of the Arapahoe County Master Gardeners we've worked with for many years. The Master Gardeners have been working with our students since early May to prepare the Legacy Garden and begin planting. JoAnne gives a great summary of Tuesday, June 13's activities and, indeed, of the season thus far. BTW, we've had a lot of rain for the Colorado Front Range this year. A lot of rain!
Even though it was chilly and overcast and the ground was wet, we had a very productive morning at CCB. We had a lot of students and we planted beans, tomatoes, collard greens, kale, marigolds, tomatillos, pumpkins and squash.
We had an enthusiastic group of students that were not afraid to get their hands dirty, and two of the students, Joy and Fitz got up into the walled garden to plant. Our garden is now full to the brim.
Pat, we found out there were two pumpkin plants so we planted the one by the fence like you wanted and the other one just to the north of the spigot.
The highlight of the morning was that CCB had visitors from Liberia that will be starting their own school for the blind there and they were very interested in the garden. I showed them around and explained how we don't use any insecticides or herbicides in the garden and explained how we choose what to plant etc., etc. Three of the visitors were sighted and the 4th, Noah, was blind and he got right in there and got his hands dirty too. The visitors had a chance to talk to our other Master Gardeners that were also present, Betsy O., Sandy B., Dawn H., Ann J., and Jill.
I am including some photos I took: one of a hornworm on the willow herb and its frass and another of evidence of cutter bee activity.
Betsy, could you please forward this to Julie at CCB as I don't have her email. I would like her to know about the students that got up in the garden and about how the visitors were shown the garden.
I guess we should not complain about all the rain, as we sure complain when we don't get rain!
JoAnne