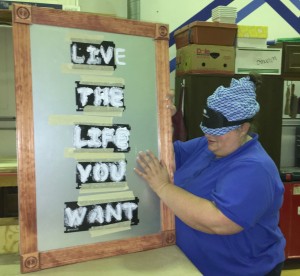 It was definitely a day to celebrate when Ahimsa graduated on November 12, 2015, and she was more than ready! She came away from her training with a positive sense of herself as a blind person and the satisfaction of knowing that she pushed herself through many barriers to reach this day. Her extraordinary laugh throughout gave testimony to that!
Already an accomplished baker, she was always comfortable in the kitchen. As she prepared her graduation meal for 60, she hummed and sang along with her favorite show tunes, knowing that she was now also an accomplished traveler as a blind person, able to read Braille and effectively use assistive technology.
All these things will serve her well as she returns to New Mexico and goes on to her next training in college!