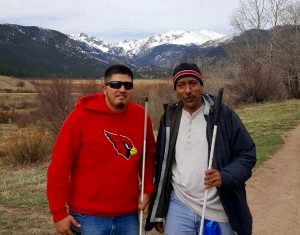 Twenty-four blind and visually-impaired Front Range youth spent the weekend of April 22-24 in Estes Park. It had been planned as a snow-shoe trip, but instead the kids and 9 adults took a 6-and-ahalf mile hike in Rocky Mountain Park.
For the past couple of years the Center has cosponsored a snowshoeing trip for blind kids along the Front Range with Colorado AER . The trip has a history stretching back a decade or more. Steve Patten and Martin Becerra, along with Warren Knight – a current ITP student – served as the maile counselors.
Basically, it involves some pretty dedicated teachers for blind and visually impaired kids planning, raising money and driving kids up to the mountains for a two-night winter activity. Note that these teachers are giving up their weekend into the bargain, as did CCB staffers and our student.
This year's trip was held over the weekend of April 22 to 24 at the Estes Park YMCA. Now, we would normally think – that's kind of late in the year for snowshoeing, isn't it? Well, in 2015 the trip was originally scheduled for the end of February, but had to be postponed … get this … because of snow.
That's right, but it makes sense when you realize that a heavy snowstorm was in progress that weekend, dumping a lot of very wet snow. Travel was quite hazardous on all roads leading up to Estes Park, whose elevation is 7,522feet.
So the "snowshoe" date was rescheduled at the end of April in 2015. Everyone was certain that it would be hiking weather. Surprise! It snowed and the snowshoeing was great!
This year the trip fell between two weekends of heavy snow in the mountains, yet it was a hiking weekend – there wasn't enough snow left from the big storm the weekend before to float a snowshoe. They had them along, just in case …
Word is, however, that the hiking was awesome!