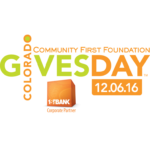 It's that time again! Colorado's largest day of online charitable giving is scheduled for Tuesday, December 6, and again featuring an incentive fund of $1 million from the Community First Foundation and First Bank.
You might remember that CCB was lucky enough to be featured on 9News' coverage of the statewide giving program in 2014 and 2015. We don't expect to be on TV again this year, but we do count on and appreciate the contributions we receive on Colorado Gives Day each year. Most importantly, donations made online on December 6 help to qualify us for a part of the $1 million Incentive Fund – making your donated dollar go even farther!
The funding we receive goes toward critical, but otherwise unfunded parts of our programs at CCB, including our Confidence Camp for 5- to 11-year-olds, FAST Saturday programs for youth, the challenge recreation activities that are such critical components of building confidence in our blind students, art classes and parts of our Senior Programs.
For the sixth year, Colorado Gives Day is powered by ColoradoGives.org, a year-round website featuring more than 1,800 nonprofits.
Start Early!
Can't wait until Colorado Gives Day? Starting November 1, 2016, donations can be scheduled early. But you have to do it all on our Colorado Gives web page!
Support CCB on CO Gives Day!