Tour the Colorado Center for the Blind
We're inviting the community in to learn how blind people do things, but our real purpose is to give folks a chance to learn that blind people are really a lot like themselves.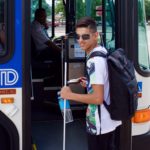 You see them all over Littleton traveling with their white canes, many wearing sleep shades. Who are they and where do they come from? They are students from the Colorado Center for the Blind, located in the old YMCA building at 2233 W. Shepperd Avenue.
As part of WesternWelcome Week we invite you to join the staff and students for an interactive tour and learn how they do it – travel, read with those little dots, cook, use power tools, and listen to the latest podcast with their smart phones. Meanwhile, the kids can take a few shots at goal ball, the sport played entirely under sleep shades.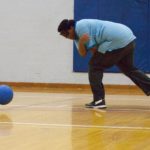 Visitors will have a chance to meet our staff and students in Home Management class, Braille, Cane Travel, Woodshop and Technology. In the gym we'll be demonstrating Goal Ball – a game developed after World War II for blinded veterans and now a Para-Olympic sport!
Tour Times
Monday, August 15
5:30 p.m. – 7:00 p.m.
Thursday, August 18
3:00 p.m. – 4:30 p.m.
For additional information contact Dan Burke, Public Relations Specialist at 303.778.1130, ext. 213.