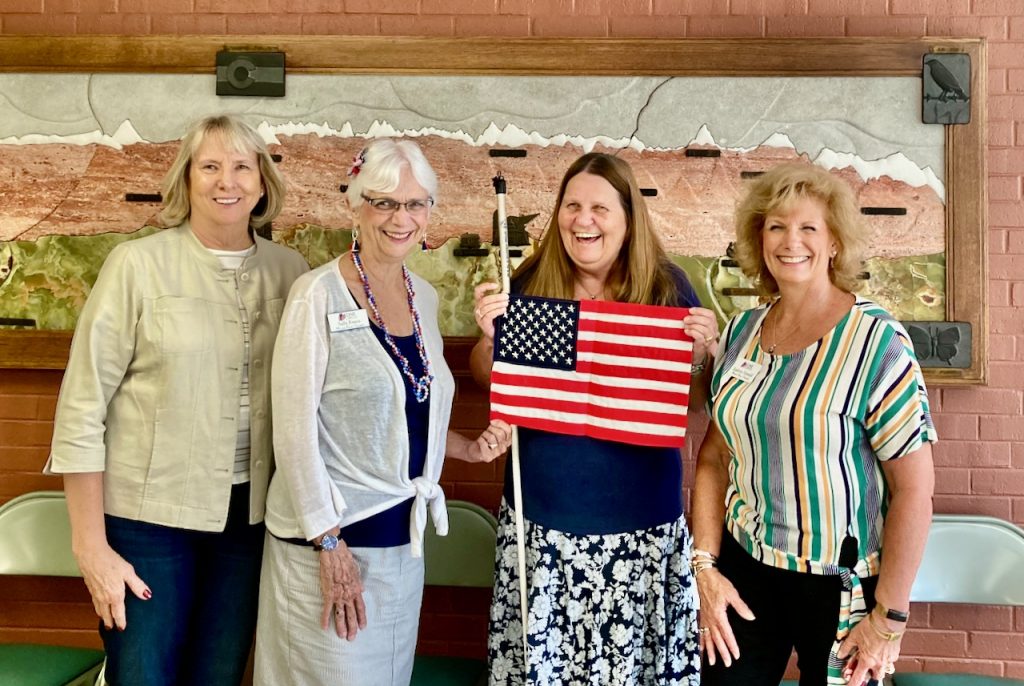 We were excited to welcome three members of the Mount Rosa Chapter of the Daughters of the American Revolution (DAR) on Tuesday, September 13, who presented us with a tactile American flag. They accurately surmised that we might not have an actual flag that blind people could touch and make sense out of. Now we have one!"
Of course, we have the Stars and Stripes in our meeting room, but flags are made nowadays in such a way that you can't feel any difference between the red and white stripes or the field of blue, let alone the 50 white stars there. Tactile representations of the Stars and Stripes are available, but this is a real flag. It is entirely possible for blind kids to be unfamiliar with the flag, how the stripes alternate and the 50 stars are arranged in the field of blue. For older folks who have lost vision, it's a chance to reclaim their memory of the flag. Here's a description:
"Your 12"x18" Flag is made of a type of gross grain ribbon for the stripes, the blue section is surrounded by blue cording, and the stars are made of metal stars affixed to the white stars on the flag."
So, it really is tactile! Now we must find the right place to hang it where it will be proudly visible, but blind folks can also examine it with their hands. Not to worry, we have a prominent spot in mind.
And we send our sincere gratitude to our friends at the Mount Rosa Chapter of the DAR and the three members of The Flag of the United States Committee, Chair Kathryn Howald, as well as Sally and Marsha.