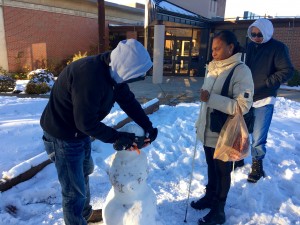 We at the Colorado Center for the Blind appreciate your support! As a result of Colorado gives day we raised over $20,000. These funds will make it possible for us to serve more kids this summer in our Confidence camp and will also provide us with funds so that we can meet more seniors who are losing their vision and show them that they can still enjoy their lives and be independent.
Our message got out to the Denver Metro area as we also appeared on 9News the morning of December 8 in seven segments with the National Sports Center for the Disabled, showcasing our students and staff running the NSCD Moves obstacle course, as well as working in the shop and talking about seniors.
There are so many ways that we receive support from all of you from financial assistance to telling others about the center so that they can find the training, confidence and community that they need to move forward in their lives.
We wanted to share a slice of the holiday season at the Colorado Center with all of you! We hope you watch the holiday greeting on YouTube from the choir our students formed this year, and check back for more posts on this blog for a taste of what this holiday season has been like at the Center.
Remember, with a positive attitude anything is possible!
Again, I cannot express how much your support means to all of us!!
Julie Deden
Executive Director