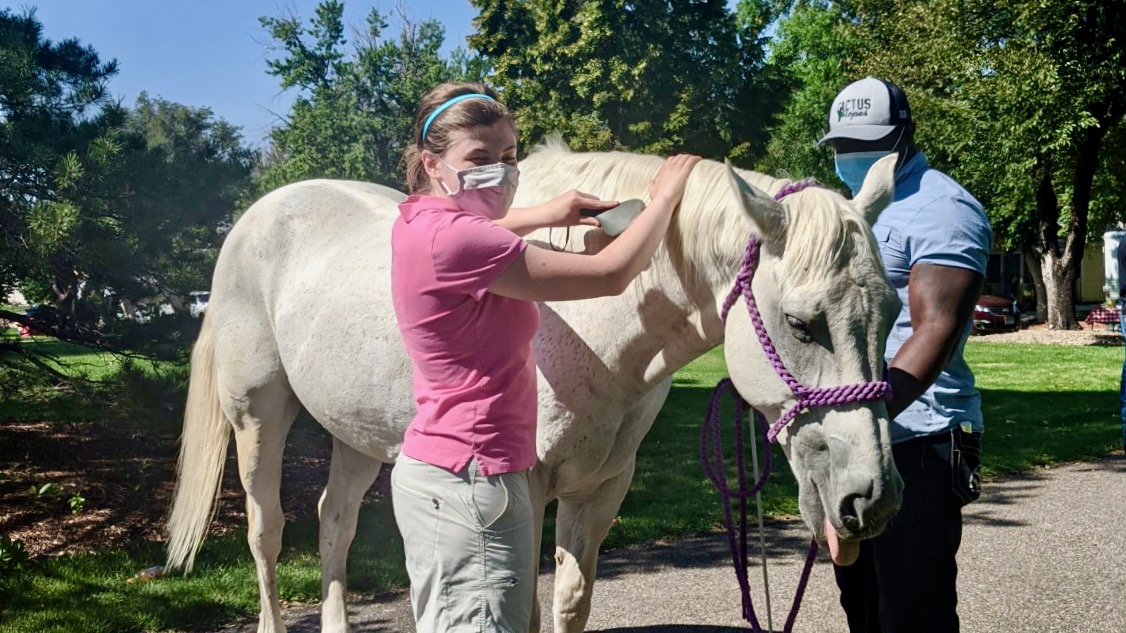 Monday August 3 students and staff at the Colorado Center for the Blind met up with members of the Arapahoe County Sheriff Offices Mounted Unit at nearby Sterne Park. When Lt. Rich Anselmi, the unit's commander first contacted Executive Director Julie Deden a while back about planning something together, Julie immediately reacted that it sounded like a lot of fun. She probably meant it would be fun for the students, too.
Four deputies, all members of the Mounted Unit, and about 20 volunteers were on hand with eleven horses, two of which were miniatures and one a small pony. Students and staff all got up close with one of the horses to learn about the animal and the basics of grooming, which usually requires three different brushes. For some, it was like renewing old acquaintances, while other students had never encountered a live horse before. And it was a great opportunity to get to know members of the Sheriff's Office. It's been a strange summer for us without our traditional summer youth programs, no opportunities like whitewater rafting or rock climbing on the immediate horizon, so the activity was a welcome twist on learning blindness skills and taking on new challenges.
And Julie was right – it was fun!
"All of my people loved working with your folks," said Lt. Anselmi. "My folks were very complimentary of the students' eagerness to learn and we were all so impressed with their ability to do so much! You all have a very impressive and professional organization. We feel like we benefited and learned at least as much today as your students did. We are very much looking forward to working with the students and staff at the Colorado Center for the Blind again!"
Well, that's definitely a fair exchange! Thanks to Lt. Anselmi and the other deputies and all the volunteers. here's to the next time we meet!