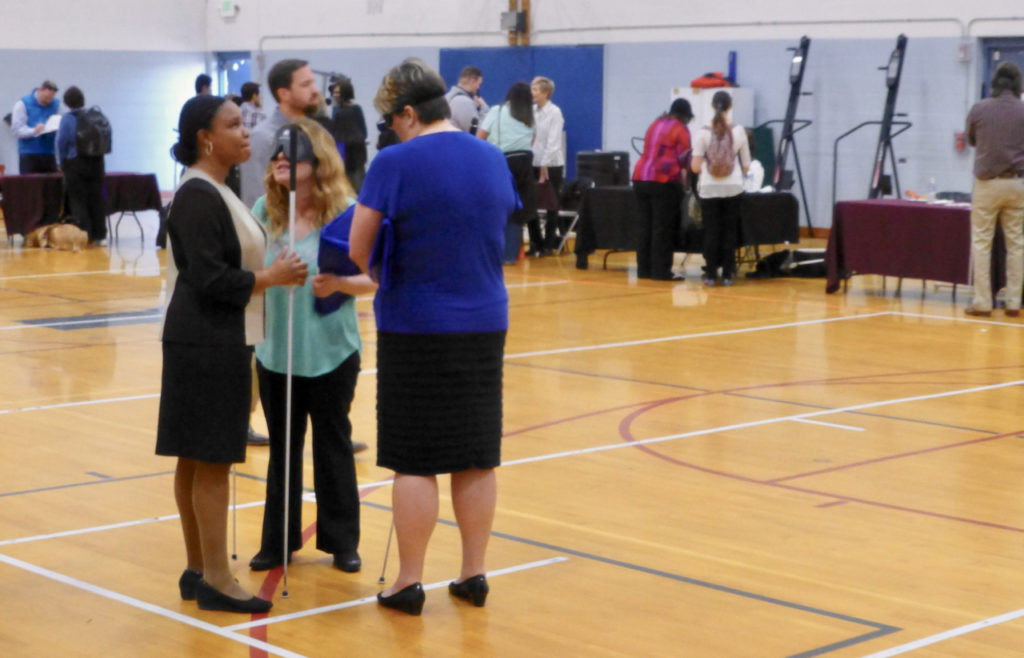 The rule of thumb is that a good resume gets you an interview, but it's in the interview that you get the job. How can you be successful at interviewing? With coaching and practice!
If you have never interviewed for a job before, if you haven't interviewed for a job since becoming blind, if you haven't interviewed in a long time, then a mock interview is just for you! It's a low-pressure chance to get some coaching and practice.
During our April 17 career and college seminar at CCB, Making Connections that Work for You, you can sign up for a series of three mock interviews as one of the afternoon breakout sessions. Yes, you'll do three short mock interviews in a one-hour period!
Mock interviews are simulations of a job interview, but not a real job interview. We'll have professionals from the public and private sectors on hand to run you through a short interview much like the interviews they conduct in their professional capacities. Then you'll get constructive feedback about the things you did well and things that you might improve. After that, you'll go on to another mock interview with that feedback and practice what your coaches suggest.
Mock interviews will be offered Tuesday afternoon from 1 p.m. to 2 p.m. and 2 p.m. to 3 p.m. Sign up with Monique Melton at 303-778-1130, x221 or mmelton@cocenter.org. Obviously, space is limited, so sign up in advance. Dress for a job interview and if you have a resume, go ahead and bring it. But the real emphasis will be on practicing and improving your interview skills
Our thanks to representatives from these organizations who will assist in the mock interviews:
Charter Communications
Comcast
Worley Enterprises
2030 Foundation
The Equal Employment Opportunity Commission (EEOC)
Ralph Schomp Automotive Group
Register for Making Connections That Work for You
Tuesday April 17, 2018
10 a.m. to 3 p.m.
Call Monique Melton, Employment Specialist, 303-778-1130 x221,
email Monique at mmelton@cocenter.org