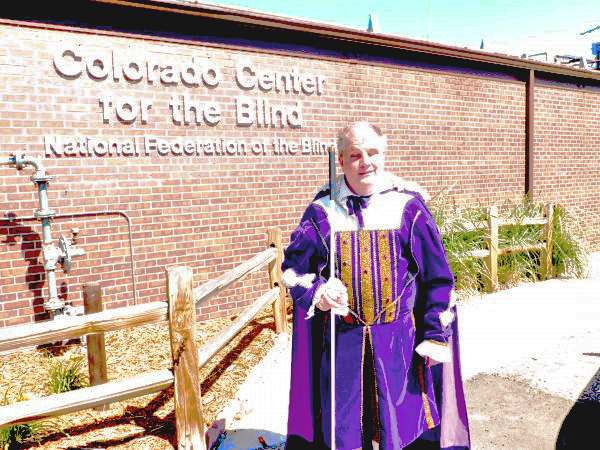 On January 4, 1988 two feet of snow lay on the ground in Denver, and the temperature was around ten below zero. It was the first day of classes at the new Colorado Center for the Blind. Miles "Tom" Anderson was there. In fact, it fell to Tom as Residential Manager to help Travel Instructor Duncan Larsen shepherd the Center's first five students from their apartments on South Eloti to the Center at Ilef and Broadway.
"The light at Broadway and Powers was frozen," Tom recalls. "We had to walk down to Littleton Blvd. to cross Broadway so we could catch the 0 bus north."
Once arrived, cold fingers and all, Tom began his first day as Braille Instructor/Typing Teacher. He's been here ever since.
Maybe that's when the oh-so-familiar summons, heard coming over the Public Address from Dr. Dots first got started:
"The dots await your fingers!"
Now, after more than 27 years, Tom and Linda have decided that it's time to turn the page, close this Braille volume and start another. Tom will retire at the beginning of May and he and Linda will move to Overland Park, Kansas to start yet another volume in the book of their lives together.
That means it's time for a celebration, and we want you to come, know that you will want to come if you can, to toast Toasty, Dr. Dots, Mean Miles – our own Tom Anderson!
"Having so many nicknames just shows how much Tom is loved," says Director Julie Deden.
If you want to show Tom some love and join us for food, beverage and a short program, please RSVP to Robert Dyson at 303-778-1130, or e-mail rdyson@cocenter.org.
RSVP Online
What? Tom Anderson Retirement Party
When? Friday, May 15, 5 p.m.
Where? The Colorado Center for the Blind
2233 W. Shepperd Ave.
Littleton, CO 80120
Lodging is available at the Hampton Suites and Inn for $99 per night, Mention that you are with the CCB to get our rate. The Hampton offers a free van service within a 5-mile radius from 7:30 a.m. to 5:30 p.m. Monday through Friday. They also offer a free Continental Breakfast, Wi-Fi and more. NoNo's Café across the parking lot offers great Cajun cooking, and many other food options are close by the hotel.
Hampton Inn & Suites Highlands Ranch
3095 W. County Line Road
Littleton, CO 80129
303-794-1800
NoNo's Cafe – Cajun Cooking and More
3005 W. County Line Road
Littleton, CO 80129
303-738-8330