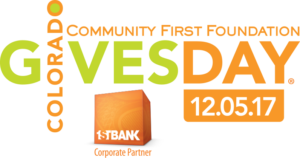 That's right – it's here again! Colorado Gives Day is December 5, just a month away! So, if you're considering a holiday gift to the Colorado Center for the Blind to help us offer training and programs so that blind people can "Take Charge with Confidence", why not on Colorado Gives Day?
CGD is Colorado's annual massive statewide movement to celebrate and increase philanthropy in Colorado through online giving. Presented by Community First Foundation and FirstBank, Colorado Gives Day is powered by ColoradoGives.org
Colorado Gives Day has become a significant part of our fund-raising each year, bringing in more than $20,000 in 2016. What's more, online gifts are eligible for an incentive fund from First Bank that is split between all the participating nonprofits. First Bank also absorbs all but 2 percent of the online transaction fees, so more of your online gift goes into the Colorado Center for the Blind's bank account!
But no need to wait, you can schedule your CGD donation right now and it will post on December 5 – and therefore qualify for the Incentive Fund! Who really needs another calendar reminder on their phone, right?