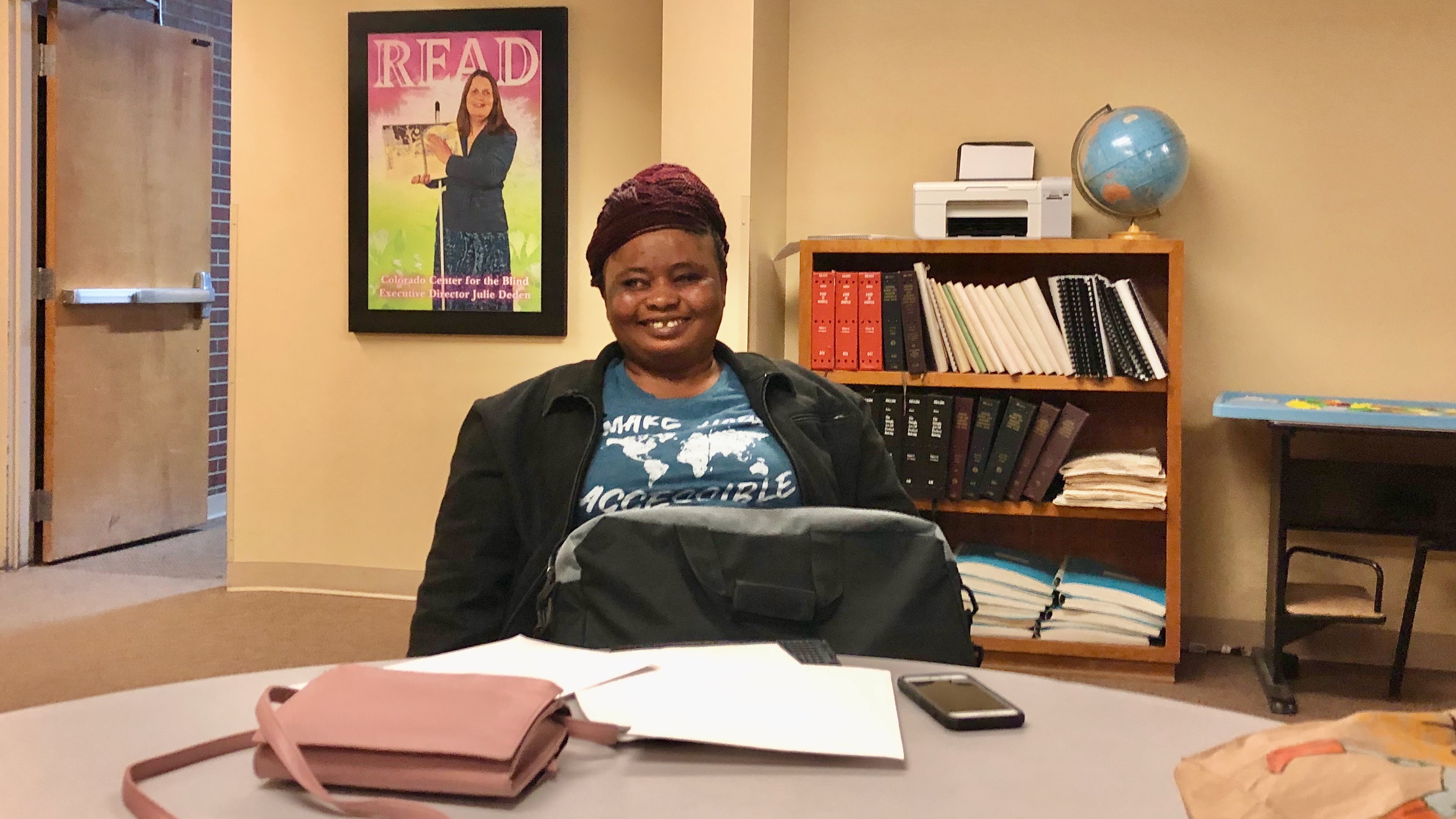 For the past three weeks, we've been delighted to have Adama Conteh as a special student at the Colorado Center for the Blind. Adama is from Sierra Leone, a country of about 6 million in West Africa. She has been in the U.S. under the sponsorship of Hope International, which has provided Adama with training at their headquarters in Tennessee, and transportation to Colorado to attend the Center for these three weeks.
You don't have to talk to Adama more than a couple of minutes to understand that she is a disability rights and women's rights advocate at her core. Blind since she was a very small child, she nonetheless went to college, worked as a teacher and was recently elected to city council in her home town of Makeni.
Not surprisingly, in a country where almost all daily cooking occurs outdoors over a wood fire or coal pot, and where only 12 percent of the population had access to electricity in 2016 (and that sporadic, she tells us), Adama had not learned to use accessible technology or even a Braille typewriter. She is, however, a marvel using a slate and stylus. Just think of the sound of a popcorn popper. Okay, a little slower than that, but just a little.
While at cCB,Adama has followed a very abbreviated schedule typical for our Independence Training Program (ITP). Thus, she worked on cane travel, home management and lots of Tech. Already Braille literate, her efforts there were to learn to use a Braille typewriter with its unique keyboard. In her work as an advocate and on the city council, she could effectively use her iPhone with a bluetooth Braille display, both for reading and writing e-mail, text messages and other documents.
At first, she didn't see much use in a white cane, though. Streets in Sierra Leone are not regulated in the same way as they are in the U.S., and there are definitely no pedestrian sidewalks.
"If you (as a blind person) want to go somewhere," she told us, "you take a scooter and they drop you right in front of the door."
After a couple of weeks with a cane, however, she says she is excited about the increased independence it provides to her. She not only plans to use a cane when she returns home, but she plans to introduce it to other blind Sierra Leonians as well.
And calls home to her family?
"They can't believe it," she laughs. ""All those blind people are cooking? All the teachers and the director are blind?"
Adama gets it, though.
So, our thanks to Hope International for sending Adama to us, if only for three weeks. But also our congratulations. With a goal of empowering women with disabilities in Sierra Leone, you have found a champion, and we are proud to welcome Adama into our CCB family as well.