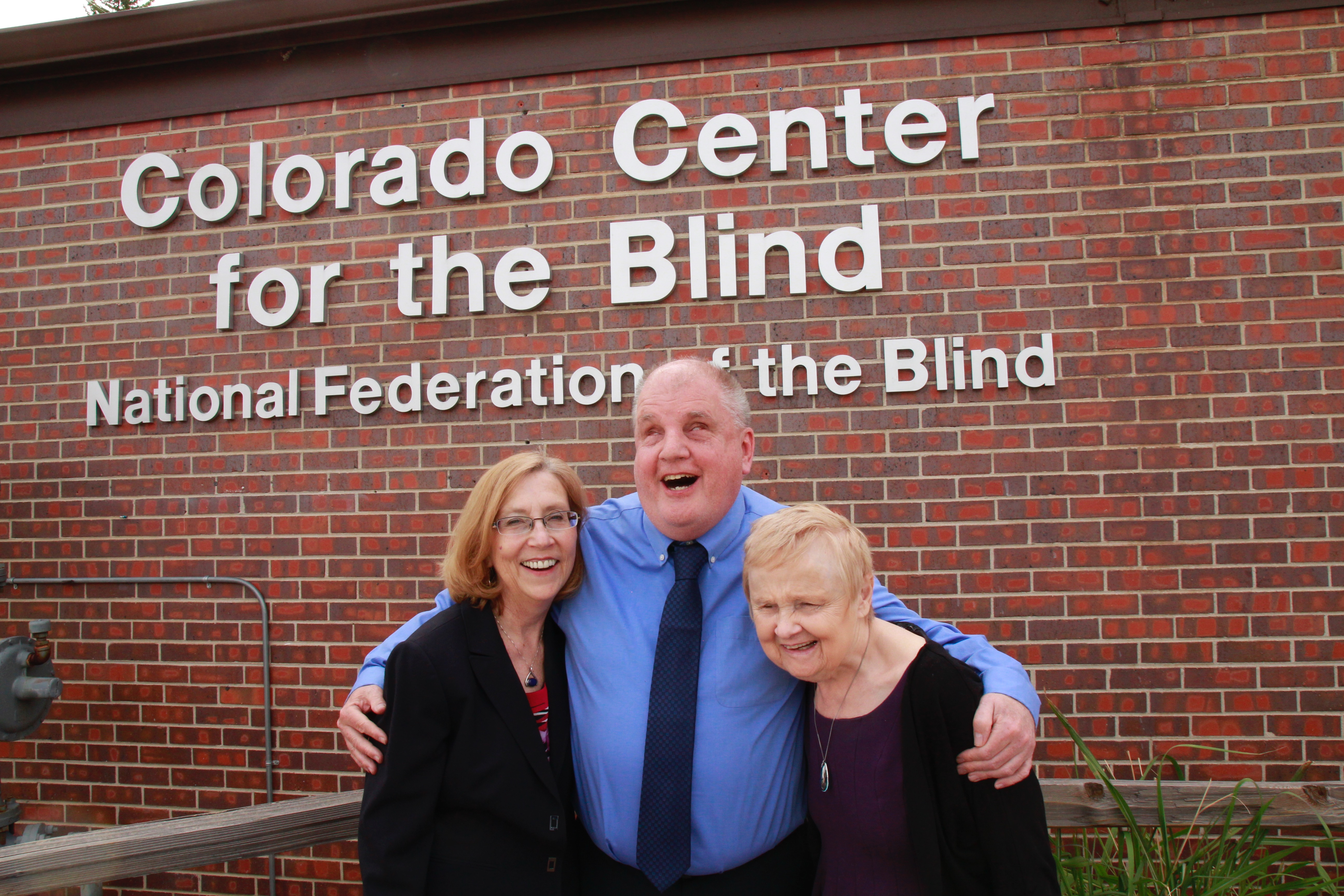 It's a big day today. Sure, there's World Braille Day and Louis Braille's 209th birthday, and our Independence Training Program students are back from the holiday break and our first Seniors meeting is this afternoon. We're excited about all that, but here at CCB we're very excited about something else, too. Today marks 30 years that the doors of CCB first opened. Five students accompanied by cane travel instructor Duncan Larsen and Residential Manager and Braille instructor Tom Anderson made their way from the apartments the Center rented for them to 2232 S. Broadway.
They came in a blizzard. Really, it's hard to think about because it's 50 degrees in Colorado today, but there was a blizzard 30 years ago.
As it happened, the apartments were in Littleton, where CCB would relocate in 2000, but when the group made it through the wind and blowing snow, they found that the pedestrian button at Powers and Broadway was frozen. The light didn't change, so they walked south to Littleton Boulevard and crossed there to catch the northbound Route 0 bus.
Meanwhile, founder Diane McGeorge was at 2232 S. Broadway with coffee and donuts, wondering where they could be. Maybe worrying just a little.
But that wasn't the end of it. After arriving at the Center and warming up with coffee and donuts, eventually the entire group went grocery shopping. For several of those first students, it was the first time they'd done their own shopping, so it was also an adventure of discovery.
I think the students thought we'd have a snow day," said Duncan this morning of that first snowy day. "our expectations were high on that first day, and they've remained high."
Throughout this year, we will celebrate 30 years of "Taking Charge with Confidence and Self-reliance" with a number of events and activities, so stay tuned!
Where Are They Now?
Diane McGeorge, the force behind creating the Colorado Center for the Blind and it's first Director (until 1999) says she's retired. Actually, she volunteers at CCB with our Seniors program as many as three days a week. She is also the Chair of our Board of Directors.
Tom Anderson says he's retired also. Well, he did retire from CCB in 2015 after teaching Braille and other things – lots of intangible things – for more than 27 years. He returned with his wife Linda to Kansas where Tom is a member of the National Federation of the Blind of Kansas Board of Directors, serves on the Kansas Independent Living Council, and organized Kansas' first Braille Enrichment for Literacy & Learning (BELL) Academy for blind elementary kids in 2017. Way to relax Tom!
Duncan Larsen is now Director of Senior Services at the Center – a program we could only dream of in 1988… That is, we might have dreamed of it if there had been time.