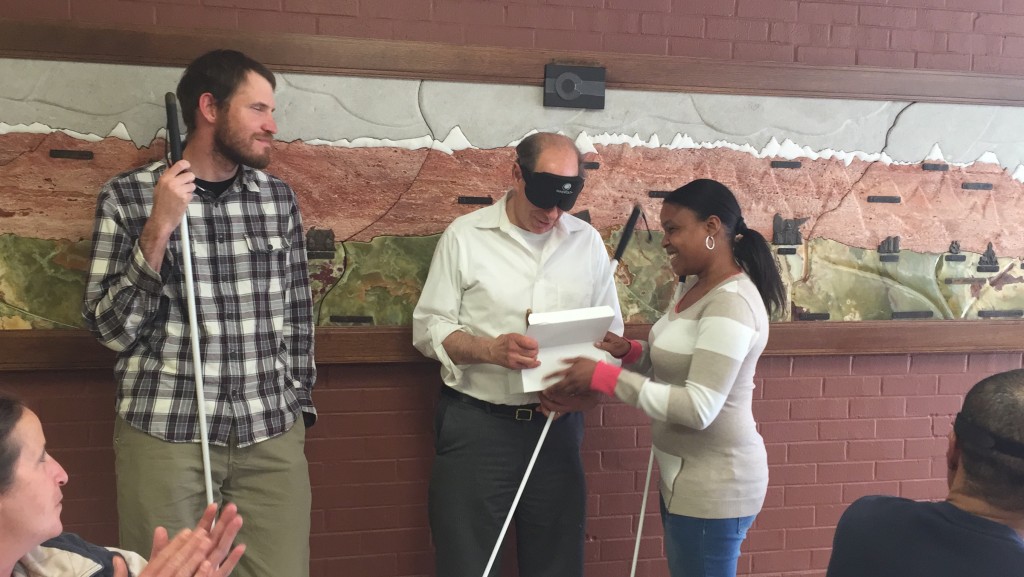 Peter culminated his amazing journey on April 1 with his grad meal and the Bell of Freedom he worked so hard to earn.
"It was suggested that I come here 20 years ago," Peter toldus. "I didn't because I didn't believe I was blind."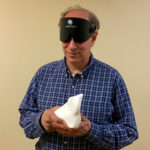 Indeed, Peter came from Brooklyn as one of our more mature students, but clearly young enough (and wise enough) to work hard and learn. In the mix he brought his mentorship to his fellow students and re-discovered his passion for making art in Ann Cunningham's class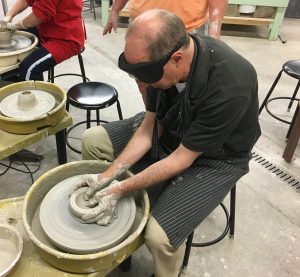 "I'm so happy and proud … This has been an amazing journey for me," he told everyone. "For all of you, this is your journey to make."
Peter asked his two travel instructors, David and Mo, to present his bell since Julie was out of town. Mo taught Peter in his earlier months until she was needed to fill in as a Braille teacher.
"With me," Mo commented, "you went from crawling to walking."
Teasing aside, all agreed that Peter worked very hard and was willing to take on every challenge in travel or tech or home management.
Peter's meal for 60 featured an elaborate Cobb salad. His sister-in-law niece and her husband, who live in the Denver area, were his special guests.
"You're leaving one thing," Peter remarked of receiving his bell, "but you're starting a whole new life (of independence)."