Please Give to CCB on Colorado Gives Day December 5! #COGivesDay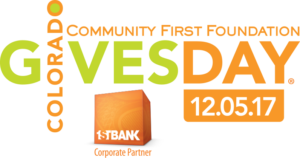 Thanks to the generous support of so many, Colorado Gives Day (CGD) is truly an important part of our annual fundraising. Your contributions support our youth and senior programs as well as challenge recreation and art activities. We thank you for your past support and hope you will continue to support us with your donations in 2017 and by spreading the word about the work we do every day to make positive changes in the lives of blind people of all ages.
For our part, we pledge to continue to bring all the energy and ingenuity we have to innovate new ways to assist blind people to "Take Charge with Confidence and Self-reliance"!