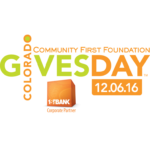 Yes – Colorado's single largest charitable giving day is barely a week away! And you can preorder your charitable gift to CCBfor delivery on December 6!
On that Tuesday, the Colorado Center for the Blind will be one of nearly 2000 Colorado nonprofits who will receive contributions.  During the same 24-hour period  last year, more than $25 million was given. Some of those donations were pre-scheduled on the cogives.org web site.
Contributions received on December 6 help qualify us for a portion of the $1 million incentive fund, ! That's why prescheduling is important – to make sure your gift to CCB counts toward our total to qualify for the incentive fund.
What to do
Before December 6, make sure you schedule your gift for  Colorado Gives Day. To do this find the tab for CO Gives Day. It's on the same line as "Today" and "Recurring."  For screen reader users however, it doesn't appear as a link or a button.  Hit "Enter" to select it.
When you have done this and click Check Out, you'll be asked to create an account in order to schedule your donation.
On December 6, there's no need to create an account or login, just follow the link and the steps to make your donation!
And that's it! Check it off your holiday list, and don't worry about checking it twice!