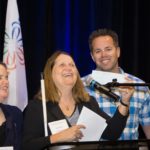 And now raise your lemonade glass in a toast to employees at the Curtis Hotel!
Last weekend, at the 2016 National Federation of the Blind of Colorado Convention in Lone Tree, Marc Greytak of the Curtis Hotel in downtown Denver presented a check to CCB for $3141.25.
That's pretty exciting, you bet! What makes this donation a bit more interesting, however, is that the money comes from the employees of the Curtis. The Colorado Center for the Blind was selected to be the beneficiary of the Curtis's #WeLovetheCurtis giving program. Associates at the Curtis can give in a number of ways, including by payroll deduction or from proceeds from its Friday fund-raiser, the "Lemonade Stand."
How did CCB get picked for the program, you might ask? Well, from our own Maryann Migliorelli , who is one of those Curtis Hotel employees andalso president of the NFB of Colorado Boulder Chapter!
Thanks MaryAnn and all the associates at the Curtis – yes, #WeLovetheCurtis, too!