by Diane McGeorge
(Editor's Note: Seniors in Charge is a five day sleep shade training for Colorado seniors. It is offered three times per year and two of those sessions participants stay in our McGeorge Mountain Terrace Apartments. This gives us the opportunity to work with Seniors from outside the Denver Metro area. The goal, as with everything at the Center, is independence.)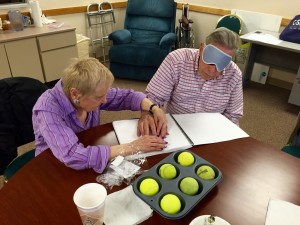 Once again, Duncan Larsen, director of senior Services for the Colorado Center for the Blind, has planned and carried out our Seniors in Charge program.  She started this eight years ago but it doesn't seem possible it has been happening that long.  We brought in  five seniors from around the state to live in our apartments and take a full curriculum for five days.  Seniors under the direction of our great staff came in and went back to the apartments on  public transportation, participated in all the classes to include independent cane travel, Braille, technology,  lots of cooking, and great discussions about the National Federation of the Blind and our positive philosophy about blindness.  One of the seniors commented, "that was a boot camp" but he also said he was so pleased to have had the opportunity for such intense training.  Five days isn't very long but it sure gives them a chance to know how important good skills are to help maintain their independence.
Our staff offers classes throughout the year in the areas described above, but mostly on just a weekly basis for an hour or so.  In those classes, they are still gaining proficiency in Braille reading and writing, cane travel, and technology is the real hit.  We also present another seniors in Charge program later in the year which targets the folks who come for five days and have the full complement of classes but return to their homes in the evening.  We hope to increase both of these programs as funding permits.
I had the great opportunity to teach the Braille classes in the most recent program from May 4, to May 8, and what a chance to share with others these skills but above all, that attitude we all share in NFB.  It isn't blindness that holds us back.  We can all live the lives we want no matter our age.  These seniors were absolutely terrific.
Comments from the Closing Family discussion
(Editor's Note: The culmination of each Seniors in Charge week is the Family Meeting. Students are asked to share what they've learned and their feelings about the training with family members and our Senior Program staff. As Diane pointed out during the meeting, "they stretched themselves, nobody said 'I'm not doing that.'")
Kathy shared that because her vision may change even further, she's been scared about what she will do if she loses it all. So she was especially anxious about working under sleepshades during the five days of Seniors in Charge. She said that as she relaxed "I was better able to listen to my instructors. It's not so bad" she said about dealing with traffic.
She also said she learned "It's ok to be blind, you feel that confidence, feel proud, you don't have to stop … you can move on."
Alison shared this epiphany: "I am much better with the cane than without it: when I have my cane I can go for a walk, and I'm excited to go for a walk by myself  in my neighborhood."
She said she had a lot of apprehension and, in fact, decided not to come for Seniors in Charge a few years ago.
"I'm glad Duncan called me again," she said. Though she acknowledged that it was hard, and she felt like a "dork" sometimes, she has gained a lot more independence with a lot of little things she learned.
George became blind much later in life, and has been attending one of the two Seniors meetings held at the Center each week.
"I really enjoyed boot camp," he said. "Monday was long but we really got to it. I wanted to build on what I've learned (in the weekly meetings)."
"I never thought I'd take up Braille," he added, but I really enjoyed it."
Fran attended a Seniors in Charge session seven years ago. She's a sewer, writer, reader, gardener and, it turns out, the philosopher of the group.
learning is power. you instructors gave us a lot of power this week. we take that with us. what we do depends on each of us and our effort and attitude."
"Can't doesn't get you anywhere but worse off," she said.
"I'm a much different student who came here this time, 7 years later … if you're in the soup, get other people in the soup, it's a little more tasty."