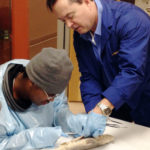 It's that time of the year. Just as we start to think about turkey and stuffing with cranberries, it's time for blind kids in the area to get hands-on with shark innards!
As he has for more than a decade, Arapahoe Community College's Biology Professor Terry Harrison will lead a shark dissection at CCB on Friday, November 18. Harrison has partnered with CCB to ensure that blind kids in Colorado get actual experience in this one aspect of the STEM fields (Science, Technology, Engineering and Math). Participants will handle the scalpels, determine sex, examine the lungs, liver and those sharp little dog shark teeth.
Start time is 10 a.m. on Friday and wraps up at 1 p.m. following pizza (no anchovies).
Students, teachers, or parents can contact Youth Services Director Brent Batron for more information or to reserve a spot – after all, there are only going to be so many sharks!