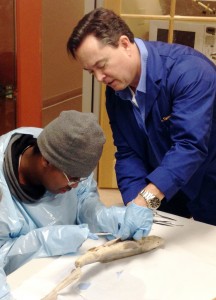 For most of us, the run up to the Thanksgiving holiday doesn't conjure thoughts of sharks, but it does here at the Colorado Center for the Blind. That's because for nearly a decade, Arapahoe Community College's Biology Professor Terry Harrison has been conducting his shark dissection here with blind kids from around the Denver Metro area as well as from the Colorado School for the Deaf and the Blind (CSDB).
This year's event is Friday, November 13, from 10 a.m. to noon in our gym at 2233 W. Shepperd Ave.
"We set out to show that blind kids can actively participate in STEM subjects in school, and even consider STEM careers," says Youth Services Director Brent Batron. "Terry has been a great ally for us in accomplishing this critical part of that goal."
The annual event sponsored by ACC, always just before Thanksgiving, has become a much-anticipated event in November. This year, 30 area students are on the list to dissect the 15 dog sharks that Harrison has ordered. In fact, the demand is so high that there is talk of doing another shark dissection event in February … Valentine's Day maybe?
Some info about Terry Harrison from ACC's web site:
Professor Harrison, who has taught at ACC since 1994, teaches all levels and disciplines of Biology courses at ACC.  He is a member of the Human Anatomy & Physiology Society, the National Association of Biology Teachers, and Nano-Link.
For mor information about this event or other Youth Services and SEM programs, contact Brent Batron at 303.778.1130, x222 or bbatron@cocenter.org.