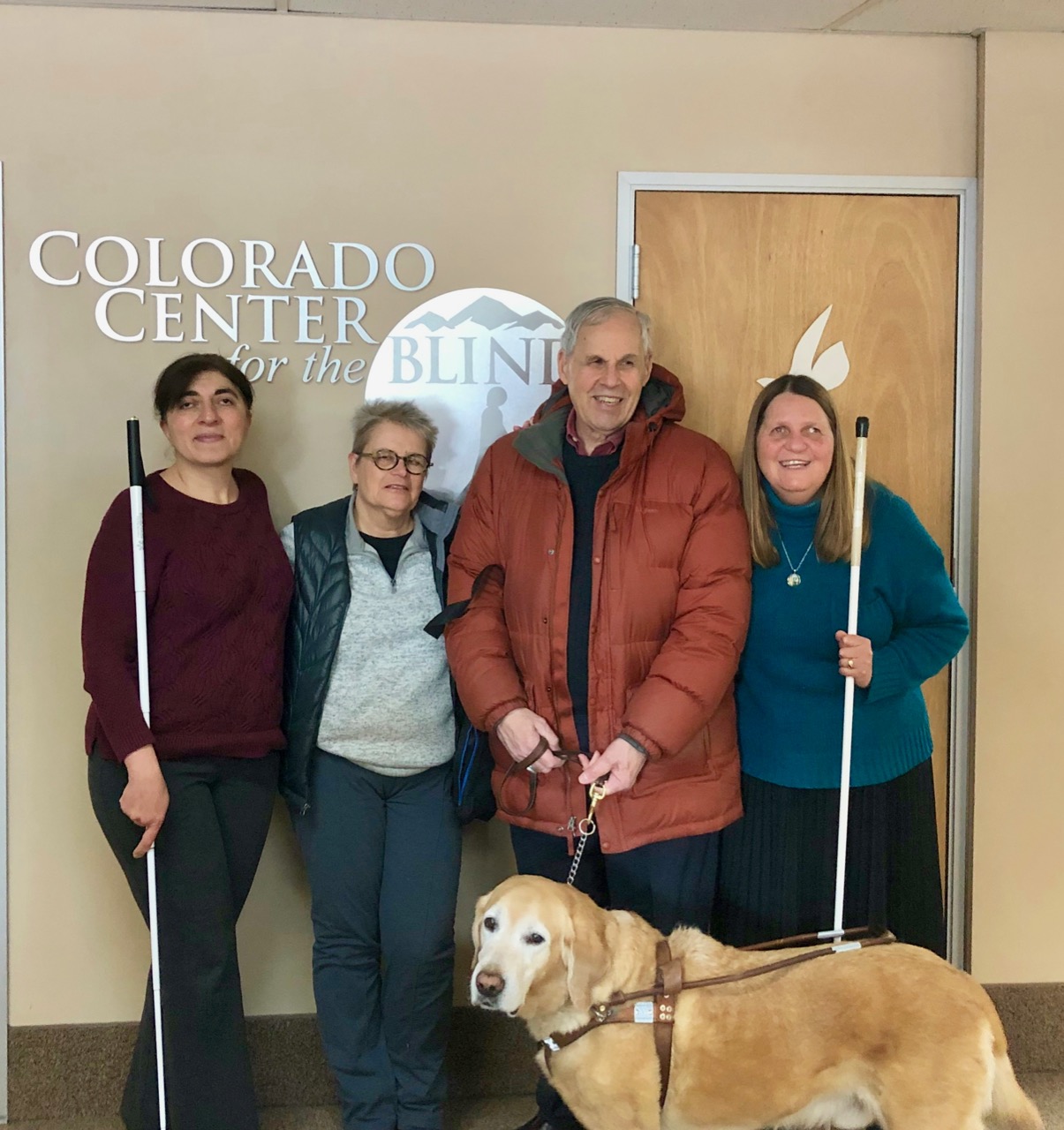 Let there be no doubt – students at the Colorado Center for the Blind form lifelong friendships. Monday, three such friends reunited at the center Kathy Kudlick, Bill Lundgren and Anahit LaBarre. They are shown above standing in front of our tactile CCB logo, left to right, Anahit, Kathy, Bill and Director Julie Deden
All three were students at the same time, in fact, they began arriving shortly after our move to Littleton in August, 2000.
Kathy was first in October of that year. A professor of French History at the University of California-Davis at the time, she came ready to at last embrace her identity as a blind person. Today, she is Director of the Paul K. Longmore Institute on Disability at San Francisco State University.
A psychotherapist, Bill came in November of 2000 from Philadelphia. He was not just at a transitional moment with the progress of his vision loss, but also in his life. After graduating in 2001, Bill made a fresh start when he opened a new psychotherapy practice in Denver. He's still practicing.
Anahit LaBarre came to Littleton in January of 2001 as an international student from Armenia. She had finished college an been successfully employed as a blind person in Armenia, yet she felt further opportunities were very limited. Anahit wasn't named LaBarre when she came to CCB. That came later, when she married Scott LaBarre. They have two children. Anahit has worked part-time with the Seniors' program at CCB for many years. This year, as her two teenagers move into high school, Anahit has simultaneously increased her hours of work and started a Master's Degree program to become a teacher for blind kids.
The three of them talked to our current students and staff during Philosophy class on Monday, offering advice and answering questions. The clear takeaway: Embrace this momement that is your training at CCB, and the friends you are making here, the friends you go through so much with, the friends you grow with for 6 to 9 months. For Kathy, Bill and Anahit, that moment of their training occurred 18 years ago now, but they've been reaping the benefits ever since.