… or just do it now and schedule it for Tuesday!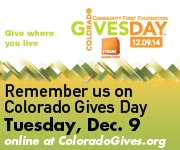 December 9 is just two days away, and it's Colorado Gives Day!  Once a year Coloradoans support their favorite nonprofits with an annual gift … or a recurring gift. We are thankful to you for all your previous support, and as the holidays approach we ask that you think of us one more time on Colorado's largest one-day online giving event.
You don't have to wait till Tuesday though. You can go to our Center's giving page and schedule your donation to post on December 9th. 
Maybe after church this morning and before the Broncos game this afternoon?
By clicking on the Give on December 9 button, you still add to our one-day total that qualifies us for a portion of this year's $1 million incentive fund! 
Presented by Community First Foundation and FirstBank
On Tuesday, December 9, 2014, thousands of donors will come together to support Colorado nonprofits like ours.  Last year, a record-breaking $20.9 million was distributed to Colorado nonprofits.  Not only did we receive the contributions our supporters gave, but also a percentage of the incentive fund as well.
$1 Million Incentive Fund
Why this day?  Thanks to Community First Foundation and FirstBank, Colorado Gives Day features a $1 Million Incentive Fund, one of the largest gives-day incentive funds in the country.  Every nonprofit receiving a donation on Colorado Gives Day receives a portion of the Incentive Fund, which increases the value of every dollar donated.
Give where you live to the Colorado Center for the Blind on Colorado Gives Day and help our blind students live the lives they want!