Tabea's time in the spotlight came on March 12 when her travel instructor David Nietfeld presented her with her Bell of Freedom.
"When Tabea first got here her sister Sarah was finishing up," David said. "For a while it was kind of the Meyer Show. Some might have been tempted to wonder how Tabea would do once her sister left, but we know for sure now the kind of person she is."
"She is a go-getter, she pushes herself. She is definitely someone who gets things done.  I am proud of her, and many others are too."
David teased that "she's a bit of an over-achiever", going to six new locations on her Monster Route, not just the required four.
In turn, Tabea thanked her instructors for guiding, pushing and encouraging her. To David, who arranged a complicated drop for her, "I feel like you (did that) because you believe in me, and I appreciate that."
Tabea had been hearing about the training at the Center from her sister, and from her brother who had also attended an NFB center.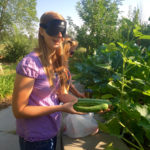 "I was very excited when I got here, she said, "but I didn't know I would be able to grow the way that I have."
About serving 65 people a meal of korma, naan and chai tea? "I watched people doing their grad meals and thought that if that's what I have to look forward to, I don't know if I can do it." But she admitted that she didn't feel any great anxiety as she went through her preparations for the final achievement.
"I want to thank Maureen for that. Thank you for your teaching for supporting me and helping me to stretch."
Tabea's mom drove from Indiana to attend the graduation. Also present were her very special family from Indiana and friends from church in Denver.
Tabea's immediate plans took her back to Indiana to visit family. In the very near future she will go on to graduate school with her new skills and belief in herself.