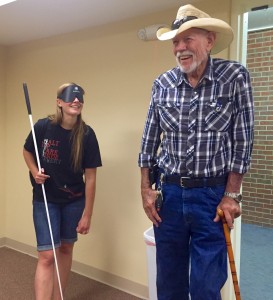 We'd like to acknowledge two special visitors that came for a tour of the Center on August 24.
Bill Gideon is retired now, living in Longmont, but he served on New Mexico's Services for the Blind Board from 1972 to 1984. He came to the Center with his friend Jo Anne Brubaker of Evans, and our student Tabea gave them a tour.
Bill doesn't spend his retirement visiting blindness training centers, though. We have it on pretty good authority he'd rather be fishing. However, his daughter, Yolanda Thompson works for us three days a week teaching computer technology one-on-one, as well as maintaining our staff and student desktops. Yolanda herself is supposedly retired after teaching at the New Mexico training center for nearly … well, we don't need to mention that number. And of course with Yolanda we also gained Bill's son-in-law Mike Thompson as a three-day-a-week volunteer.
Jo Anne hasn't had the same experience with blindness as Bill.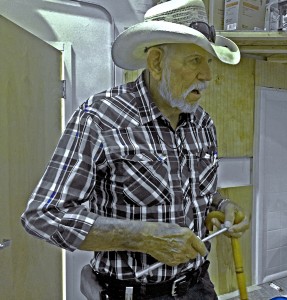 "I certainly did enjoy the tour," she wrote afterwards. "Tabea is an intelligent and articulate representative of the program and I enjoyed very much meeting her. I continue to be amazed by the work being done at the center. Surely your group serves as a role model for many other programs around the country. I'm especially impressed by the self-confidence that must surely result from such positive-thinking teaching. "
Yes, there are other centers like this, Bill replied to Jo Anne's question. "But this is by far the best."
We thank you for that comment Mr. Gideon, and we look forward to your next visit … when the fish aren't biting!