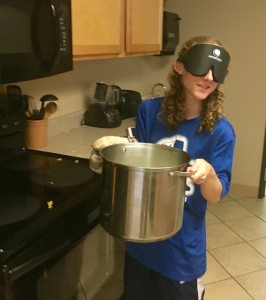 Haylee might have been a little stressed out as she approached her graduation day, but to all outward appearances, she made it all look seamless, right down to her quick change of outfits prior to giving a polished and well-researched speech after cooking all day.
Haylee first came to the Center for our summer program in 2014, just after her high school graduation. Always a bundle of fun – riding her skate board, shooting baskets, and a mean goal baller – she wasn't crazy about carrying a white cane at first.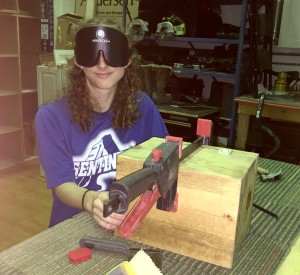 "Haylee has always taken my arm when we went places together," her sister Kaitlynd told us at the Bell Ceremony. "But the first time I came to visit her here I said 'Take my arm," and she said 'No, I have my cane and I'll just walk with you.'"
That's when Kaitlynd understood that her younger sister was growing into her own independence.
Her sister, mother and father all came from Arizona for Haylee's graduation, and got a notion of her growth and impact at the Center and how proud we all are of her accomplishments.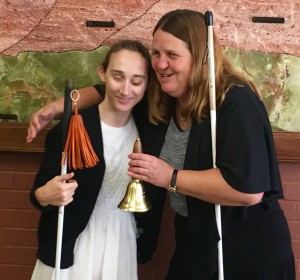 And she finished with flair – an intricate keepsake box in woodshop, a great speech one day, a fabulous grad meal the next of homemade chili mac, a blue cheese & pine nut salad with raspberry vinaigrette, white chocolate chip cookies and strawberry lemonade.
If it sounds great, that's because it was!
She's back in Arizona working part-time for her Dad's business and getting ready to go on to college, planning to become a teacher.
The topic of her speech, by the way, was "Synesthesia." Well, Haylee's color is definitely yellow – bright and cheerful like a Dutch tulip on a spring day!