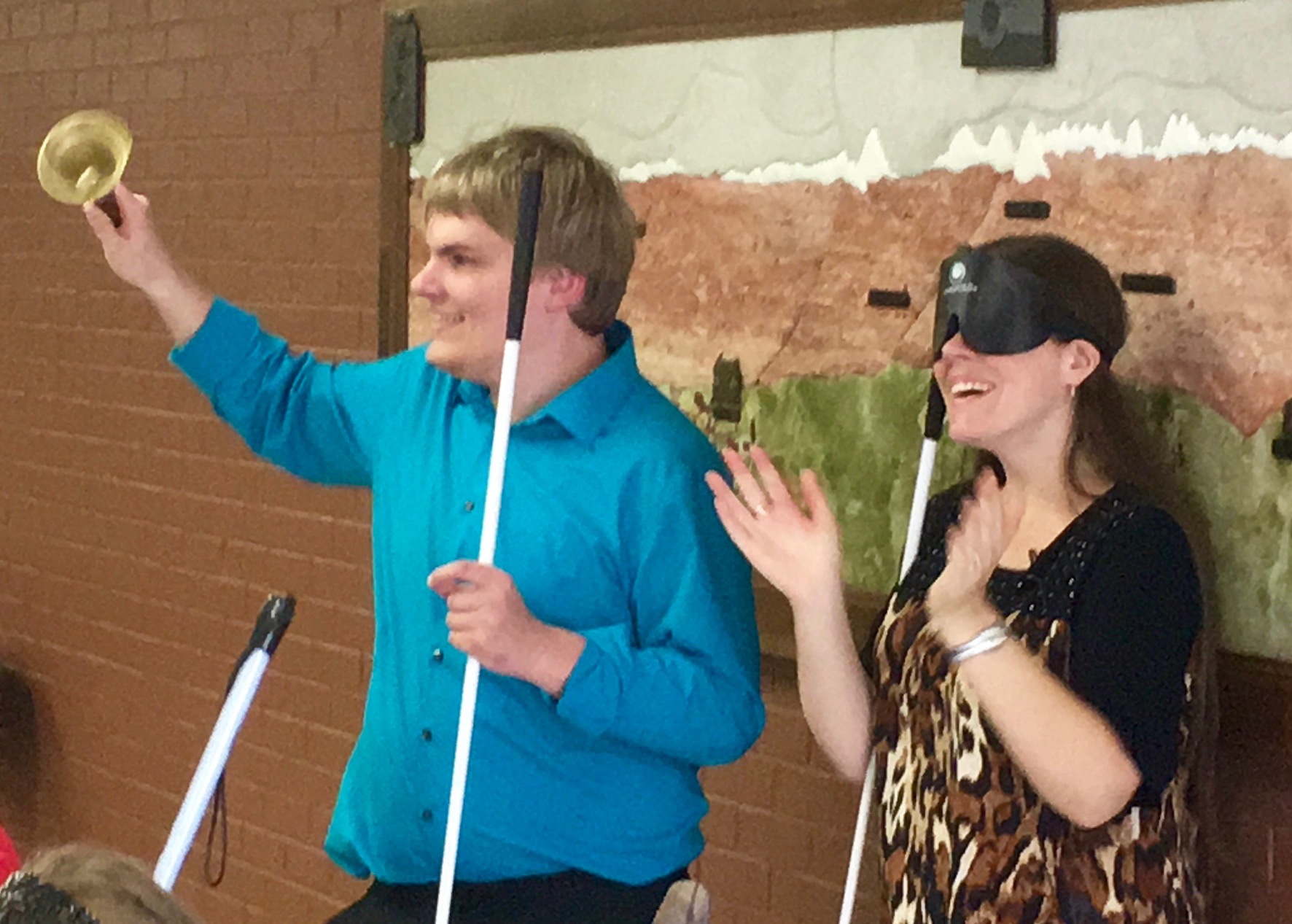 Zach's day was Wednesday, October 28, a day to celebrate what he now "does" after nine months of training at the Center, and the confidence he has as a blind person for the things he will do in the future. The photo of him ringing his Freedom Bell above shows just how ready he was for that celebration.
Zach fought for nearly two years to get funding to come to the Center from Wisconsin. The real work started when he got her early this year, however.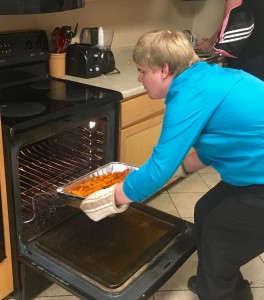 "You had a whole list of 'I can'ts,' Maureen, his Home Management Instructor, reminded him. "but you've turned that all around.. You can Mince and chop and do all the things you thought you weren't going to be able to do – I'm so proud of you."
The confidence that grew in Zach was remarkable. Not only did he master all those kitchen skills, but he built an ambitious project in wood shop – an elaborate entertainment center.
His Tech Instructor, Chris Parsons gave him his bell.
"The first thing I heard about Zach was: 'This guy is techy and he wants to tell you about it,'" Chris teased. "Our class was never boring with Zach in it."
"I'm so proud of you! Everybody is really excited to see where you go next with all those tech skills and all the new skills in other areas you've gained.".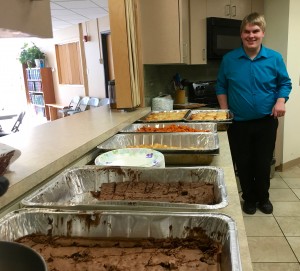 Chris also told us about how, when he was about to go on his Drop – one of the final Travel requirements, that she gave him the usual encouragements, but Zach had an unusual response.
"You don't understand – I've been waiting for this (drop)"
His comment when he returned?
"That was so fun"
He made sure to thank his teachers, especially Maureen and Chris, for helping him get through his program.
Zach had a number of guests, ultimately serving 63 people at his grad meal. His Mom and younger brother came from Wisconsin, as did Jeremiah Beasley – a former teacher and advocate who helped him get to the Center. Tom and Linda Anderson were there, having come from Kansas for the NFB of Colorado convention.
Keep that bell ringing Zach!