Executive Director Julie Deden wrote this salute to the final five students graduating from the Colorado Center for the Blind in 2019.
Colorado Gives Day is this Tuesday, December 10, and as we do each year at this time, we are asking for your financial support for our programs at the Colorado Center for the Blind. In the next couple of weeks, five students will graduate from our Independence Training program. Each of these students have made tremendous accomplishments that will propel them towards an exciting life. Each of them now realizes that being blind does not need to stop them from doing what they want to do with their lives. By introducing you to these students and their compelling, unique stories, we hope you will be inspired to make a contribution to the Colorado Center for the Blind on December 10. As I wrote about each of them, I was inspired myself!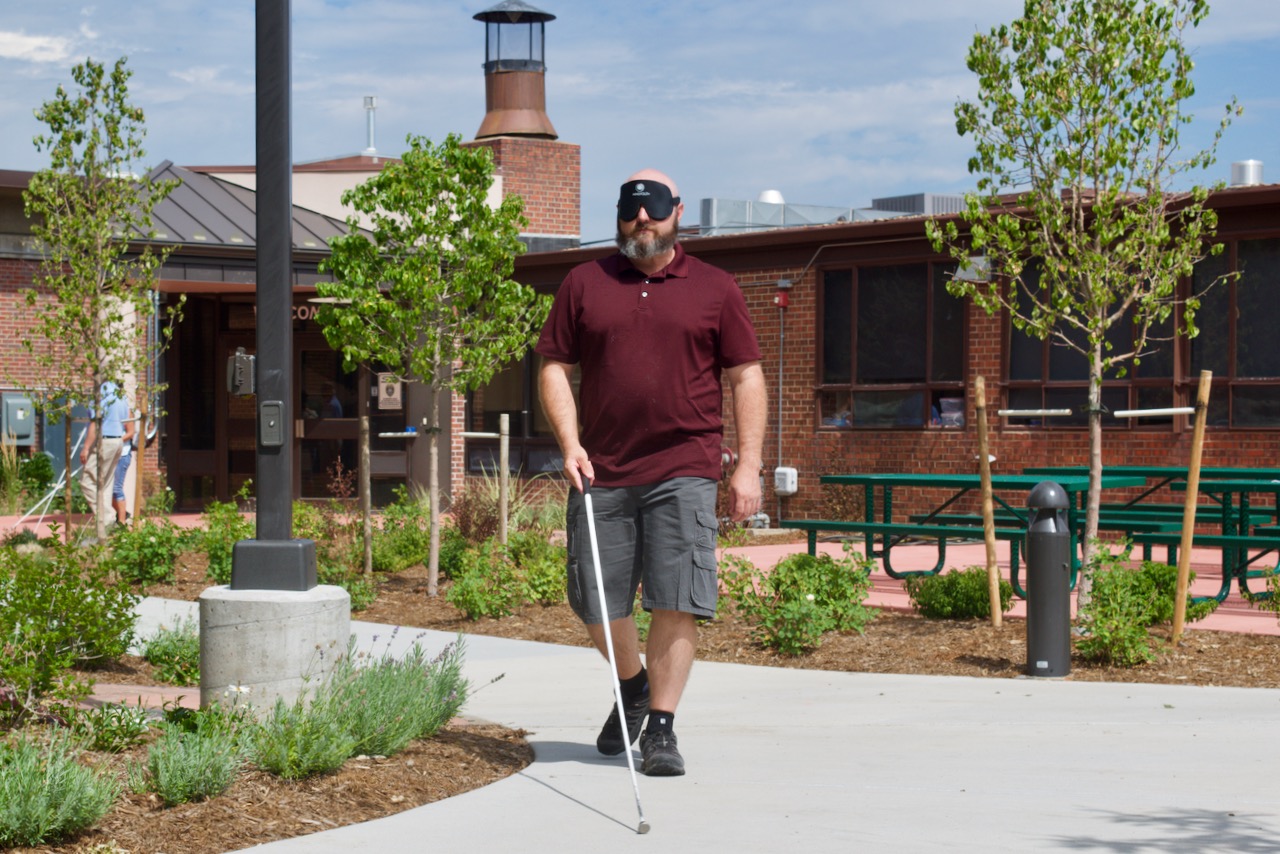 Patrick from Missouri lost his vision as a result of diabetes. He realized that he needed to do something big in order to get his life back. So, he let his daughter and family know that he would be in Colorado for nine months to get the training that he needed in order to go back to work. Patrick didn't like cooking when he was sighted, yet on Friday he was busy preparing his graduation meal for 60 people. His plan now is to enter into business – one that may involve some cooking! This Tuesday he will ring his freedom bell standing on a leg with a hairline fracture, which he sustained during our last big storm. It's clear that Patrick is determined to finish his program and start a new chapter in his life.
Holly came to us from the United Kingdom. Blind since birth, she had not had high expectations placed upon her and knew that she wanted to live an exciting life filled with accomplishment and adventure. Holly worked hard to gain a scholarship to attend the center. On Monday she will complete one of her final projects her monster route. All in one day, she will travel to four unfamiliar locations in four different Metro-area cities on RTD buses and light rail trains. WE will celebrate this accomplishment with her wen we meet her at the Damascus Grill on Monday evening. In January, Holly will return to complete an apprenticeship in order to be qualified to work with blind adults in the teaching profession.
Rocky from Colorado lost her vision as a result of diabetes. She was working at a preschool and could no longer handle the paperwork and did not feel comfortable monitoring the children. But Rocky is a woman of determination and even with some health issues, she has completed all requirements except for her graduation meal, which she will prepare and serve this week. Rocky has learned Braille; she can use a computer in her job and realizes that she will easily be able to track the kids that she works with. On December 11 she will proudly ring her freedom bell. Rocky will be returning to work at the preschool and she has her own apartment. She cannot wait to see what the future brings!
On Monday December 16 Millad from Pennsylvania will be graduating. Millad has been challenged throughout his program. He realized that he did not want to settle for low expectations. Millad has his master's degree in public Health Administration. Even though he obtained this degree, he realized that he did not have the confidence and the skills to compete in his chosen profession. Now he does. Millad will stay in Colorado. He has his own apartment and has already begun looking for work. He now realizes that he does not need to let his blindness hold him back.
Paul from Colorado is not legally blind, but functionally blind. Exposure to normal light causes severe pain. Prior to attending training at the center, Paul stayed down in his basement during the day, his kids guided him on walks in the evenings. He lost his job of many years as manager at a manufacturing firm. After contacting the center and the Colorado Division of vocational Rehabilitation, He learned that he did not have to live his life this way. Paul embraced the sleep shade training required at the center. In fact, Paul loves his sleep shades, and is one student that will continue to use them most of the time when he graduates. Paul is a single dad with three kids. He has relocated to Littleton and has his own apartment. He will shortly complete his degree and plans to obtain work. His kids know that they no longer need to guide him. He is truly their guide and a great dad. Paul will ring his bell of freedom on December 18th.
I hope you enjoyed meeting these students. They are now part of our Colorado Center for the Blind family. We are proud of their determination and all that they have achieved! Thank you in advance for your support of our programs. These five people are definitely ready to "Take Charge with Confidence and Self-reliance!"
Julie Deden, Executive Director
December 8, 2019