Good evening!
This is the last blast for Colorado Gives Day. Promise.
There's still time to donate to the Colorado Center for the Blind at
the Colorado Gives page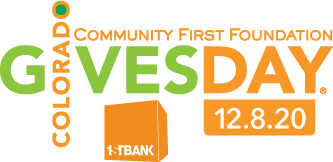 And as your reward for clicking on this post, you get to meet Katie. She's a career social worker whose degenerative eye condition interrupted her professional employment, so she came for training. For the past three months she's been posting regularly on her Face Book page about her journey at CCB. She calls this "Katie Goes to Blind School." Here's a portion of a post about learning to travel with a long white cane, and the other things she is learning along the way.
November 14, 2020
Next week I will be starting my 8th week at Blind school. I can't help but reflect on all that I have learned during that time. When I started with my Travel class (Otherwise known as Orientation and Mobility) I had never had any training on using a cane. Until I started school I had been using a cane (improperly) mainly to keep me from tripping and to alert others that I had a visual impairment. I relied on my residual sight, flashlights, kept to familiar environments or asked friends and family to guide me.
The first couple weeks of travel training involved teaching me the basics- how to hold a cane properly, correct motions to read the environment, orientation to the school layout and how to walk in a straight line. The next couple of weeks we worked on increasing my speed, how to interpret the information I was receiving from the cane (texture and sounds) and holding my head up. For years I have walked with my head down so I could look where I was placing my feet, that was a hard habit to break even though I had on sleep shades and couldn't see anything.
Yesterday after 7 weeks of training I was sent on my first solo travel route. No instructor, no fellow students- just Me and my cane. Luckily, I was wearing my Big Girl Pants, so I adjusted my sleep shades, threw back my shoulders and put my chin up and off I went. I wasn't worried about the first leg of my route as I travel it daily to and from the school. However, the second leg of the route included a street crossing. It's the crossing I have done most often but I always had my instructor there for back up.
As I approached the corner my anxiety began to rise, traffic sounded louder, I was second guessing my orientation, unsure if I was positioned correctly- basically I stopped trusting myself. As I stood on the corner I was frozen. After a few minutes I had calmed and reviewed all the information that my cane and ears were telling me. I was about 95% sure I was oriented correctly BUT that 5% was messing with my head, so I peeked… I lifted my sleep shades for a second to make sure I was centered on the crosswalk.
Guess what? I was perfect! So I pulled my sleep shades back down and crossed the street the next time traffic changed. I made it across the she treet safely- I was both happy and disappointed. Happy because I was successful but disappointed because I hadn't trusted myself and ended up peeking.
As I completed the third leg of my route (locating a business) I promised myself I wouldn't look when I crossed the street to return, that I would have faith in my cane, my ears, my intelligence and my instincts. After locating the business, I headed back to the corner, located the crosswalk, squared myself up to the traffic, listened to the traffic patterns, took a deep breath and stepped into the street. It wasn't perfect but I ended up on the other side of the street successfully!!
Seven weeks ago, I would get lost trying to find the bathroom and now I can cross a street on my own. It feels good to be able to travel independently, there is a sense of freedom to not needing anyone but yourself. Just think what I will be able to accomplish by the time I graduate…