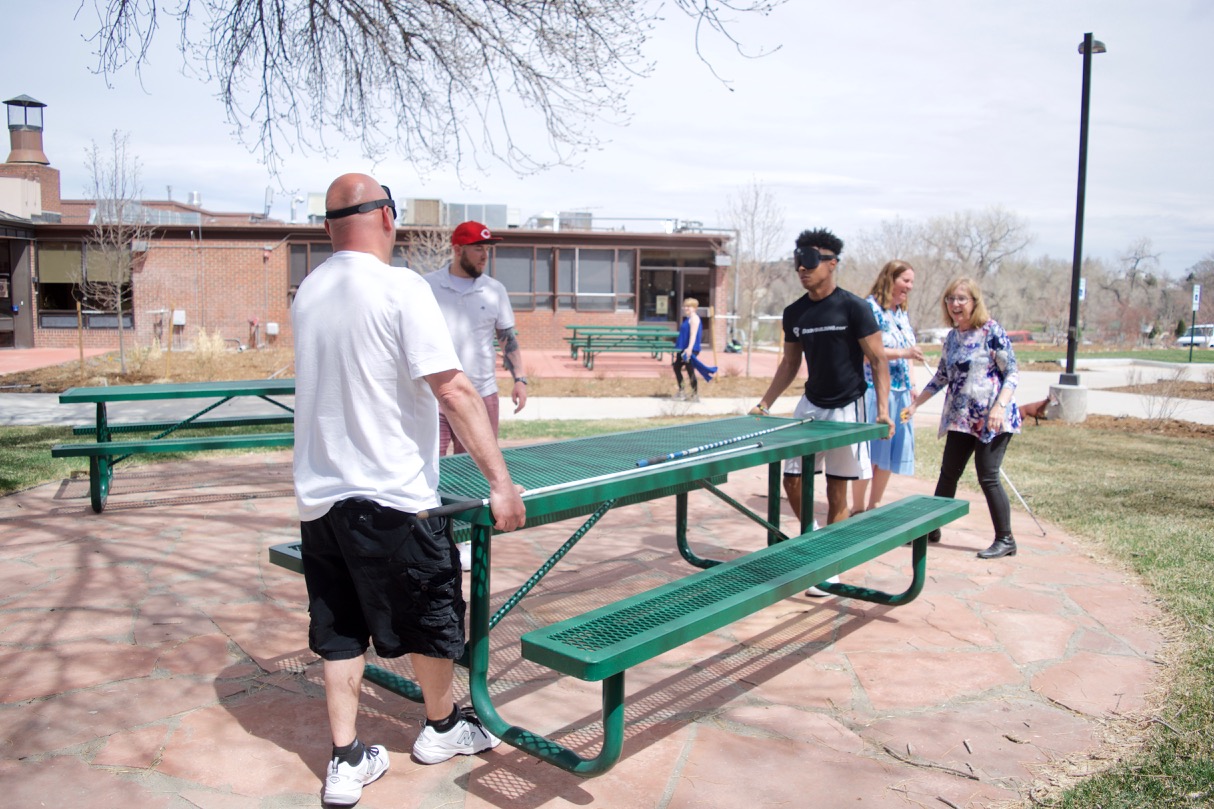 Sometimes spring arrives in Colorado in waves that feel like that bad bus driver, the one who alternately steps on the gas and then lets off, again and again, rocking you forward and back into half-nausea. That's how it's been this year – 80 degree days followed by an icy blast of wind and snow and then it starts again. But underfoot (and a couple of times under the snow), the grass is greening and the smell of the damp, warming soil is like a reassuring promise, while overhead in the budding trees robins and sparrows and towhees announce their return.
Even though the center was closed for Good Friday, it was a busy week. Both Omar and Lauren graduated this week. Adrian completed his Drop on Wednesday, and his Monster Route on Thursday. Meanwhile, the Tuesday Seniors group traveled to Boulder to visit the Celestial Seasons herbal tea factory (located, appropriately enough on Sleepytime Drive).
Here are a couple of pics that speak of this spring. One of them is a group of volunteers, under the direction of Director Julie Deden and Senior Services Director Duncan larsen, moving the picnic tables onto our new patio outside the meeting room door. This was a classic "No, I don't like it there, let's try it over here" kind of activity. (Those picnic tables are made of steel, just saying.) The patio was put in last year as part of our parking lot and grounds redesign project. It's the perfect place to enjoy your lunch in the spring sunshine and listen to the birds sing.
Our roof at the McGeorge Mountain Terrace Apartments is new,after the the big January snowstorm revealed serious leakages. The final exterior touches involve painting the roof trim. But while we have the painters up on ladders, we're doing the necessary maintenance of painting the window trim and changing the colors. Why not? Spring is a great time for fresh new color!
Enjoy the Easter weekend all!