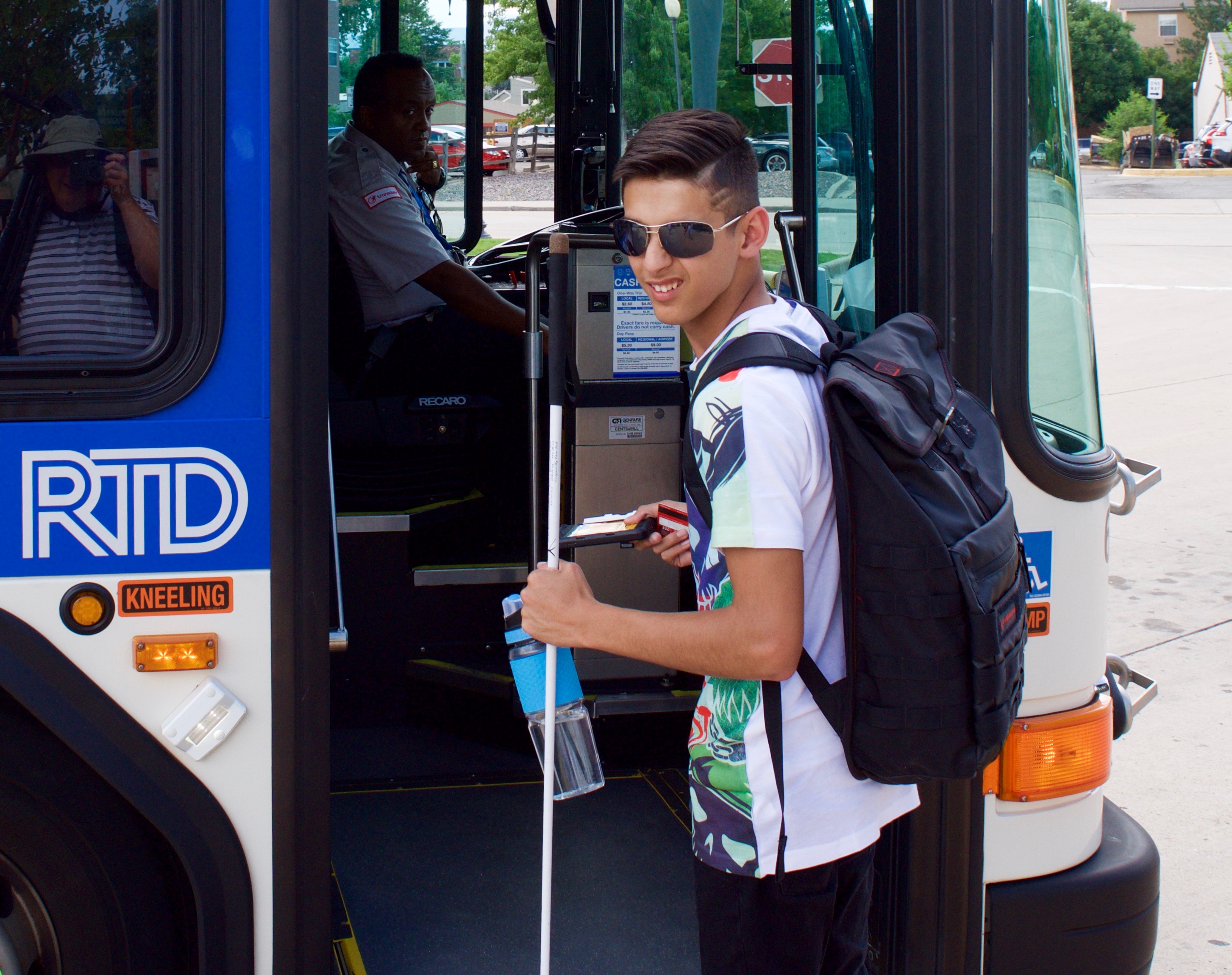 Sure, it was an unlucky 13 degrees this morning and one-third of our ITP students are on the slopes today, so why not start thinking about Summer 2017?
Here are the dates of all three residential programs.
Summer for Success College Prep Program
Ages: completed junior year in high school with focus on college
Program dates: June 9 – August 4
8-week residential program
Earn and Learn High School Program
Ages: 14 years or older and completed freshman year of high school
Program dates: June 9 – August 4
8-week residential program
Initiation to Independence Middle School Program
Ages: 11-14
Program dates: June 12 – June 30
3 week residential program
At the Colorado Center for the Blind we offer three summer residential programs for students in middle school, high school and college prep. The students live with counselors in 2 bedroom, 1½ bath apartments located near the Center and will work on all aspects of managing an apartment. Students are well supervised by their counselors at a ratio of 3 to 1. They will also use public transportation to travel to and from the Center each day. There are usually 2-3 students per apartment and they work together on such things as cleaning, cooking, food storage, grocery shopping, using shopper assistants, budgeting money, and sharing common household chores.
We place a big emphasis on challenge recreation activities such as white water rafting, rock climbing, canoeing, martial arts, science and a variety of other events. The students always have a great time tackling these challenges that are generally perceived as inaccessible to blind kids.
All students participate in discussion groups where they talk about what it's like to be a blind teenager. Topics of discussion may include dating, dealing with parents and teachers, ways to integrate effectively into all school activities, and various social situations. Students learn how to problem solve, self-advocate and take charge of their lives.
All programs share the core classes of Braille, cane travel, daily living skills, technology and philosophy of blindness. As an integral part of our programs, students with residual vision are required to wear sleep shades during the day and during other Center activities. This provides for all students to focus their attention on learning the non-visual techniques that we teach at the Colorado Center for the Blind. Self-confidence and belief in one's capacity takes root most firmly when the student realizes that their sel-fworth need not be based upon how much vision they have, but instead on their effectiveness using either nonvisual or visual techniques.
One of the high points of the high school and college prep summer programs is traveling to the National Federation of the Blind Annual Convention. This is the largest gathering of blind people in the world and the students get the chance to meet many successful blind adults and other kids from all around the country. At the convention, they learn about the newest in assistive technology and other adaptive devices, while experiencing some of the details of staying in a world-class hotel. Students will have an the opportunity to pack for the trip, check luggage and travel through the airport with other blind people using new travel skills. On the last night of the convention, they will attend a formal banquet and will be expected to dress appropriately.
Summer for Success College Prep Program
The College Prep class seeks to instill a sense in each student that they can and should take charge of their education in college and beyond. The program introduces students to the student-initiated world of the college Disability Services office and "reasonable accommodations", as well as the increasingly virtual learning environment. We impart concepts and develop skills to assist the student in finding success in their studies. They will learn about their civil rights in college, as well as multi-tool strategies for obtaining their own accessible formats of textbooks and other instructional materials. Here, the emphasis will be on assistive technologies and textbook resources. We'll also cover access to science and math, research databases and use travel skills to visit several campuses in the Denver Metro area.
Earn and Learn High School Program
This eight-week residential program serves students aged 14 and older. Not only do these students take the core classes, but they have the opportunity to participate in exciting, paid work experiences. We work to match students with jobs they find both interesting and challenging, and they travel to and from their jobs with an assigned Summer Counselor. It is exhilarating for the students to get their first paycheck.
Initiation to Independence Middle School Program
This is a three-week residential program for students aged 11-14. In addition to the core classes, this is an opportunity for this age group to live in apartments with other students and a counselor, getting real world experiences in their home away from home. Students will meet successful, working adults in order to learn about various professions. These students are excited to have so many new experiences in just three short weeks!
For more information please contact:
Brent Batron, Director of Youth Programs
bbatron@cocenter.org