This year, Susan says she's thankful for her husband as always, but also for the Colorado Center for the Blind. She's been attending Senior support groups at the Center twice a week for only a month.
"My rock" is how she describes her husband and his support for her. "When I get home, he's going to ask me about all that happened at the Center today."
Susan began to lose vision to Macular Degeneration in early 2016, and was declared legally blind last June. She is right in the middle of learning to live with her vision loss, and knows that process is not all smiles and triumphs. Along with that, she has been recovering from a series of surgeries for a completely different medical issue.
"But when I come in the door here, I feel happy," she says," no matter how hard a day I'm having."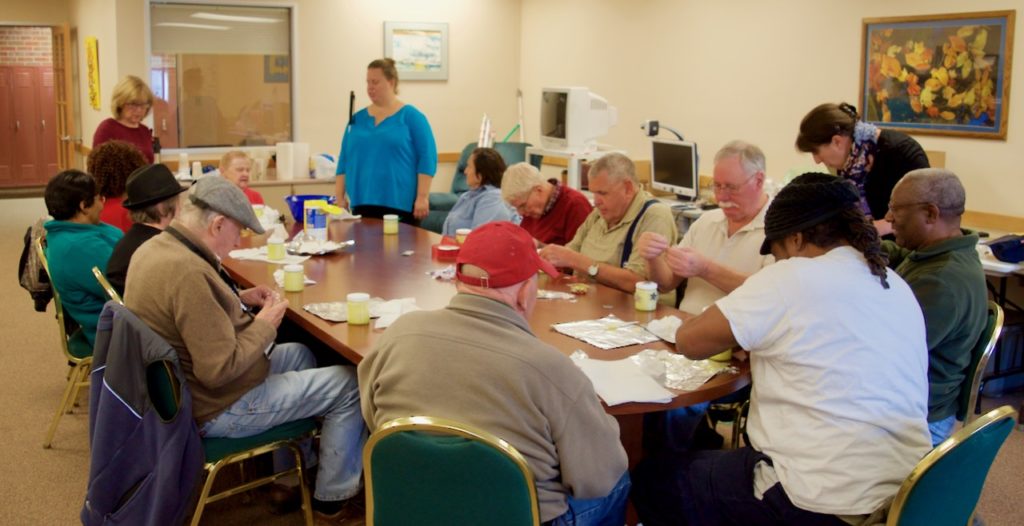 "I'm learning a lot. Robert (Dyson) showed me how to use the white cane when I first came. And I'm reading words in Braille now," she says. "But, it's just the people, the other seniors – they understand about the fears, the anxieties. It feels like home here. I don't have to put on an act. It's incredible what (the Senior Program) has done for my spirit."
For our part, we are thankful to have Susan in our Senior Program, and we're thankful for the donations that help support our Seniors and other programs. Please remember us on Colorado Gives Day, Dec. 4. You can designate your donation to Seniors, Youth or to the Colorado Center for the Blind in general.