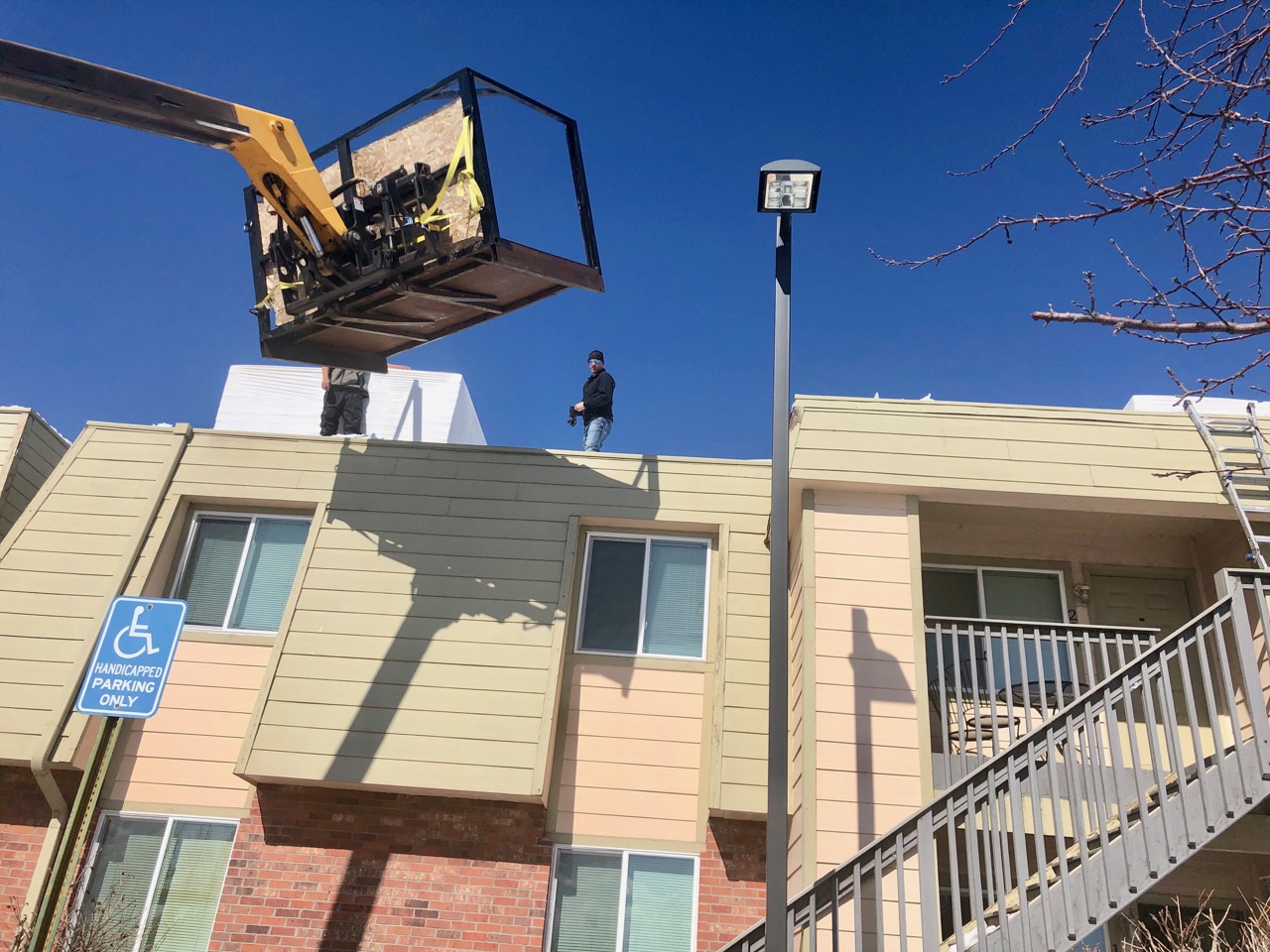 Okay, we haven't been talking about this much, because it's kind of stressful. But on January 11 the roof of the McGeorge Mountain Terrace Apartments began to leak. The leaks were massive, and the insurance adjuster traced them back to hail damage that would have occurred last summer. Water damaged the ceiling in all 12 of the 2nd story apartments. In most, the damage was minor, in a few others water was collected in buckets for several days while disaster mitigation crews worked to dry things out.
The stress of course was for Director Julie Deden, Residential Manager Vicki Sayler and the rest of us, worrying about the roof and further damage, when we can get it fixed, etc. But some of the stress has been borne by our students. Most second floor apartments are definitely livable, but others had to be abandoned for the time being. So some of our students had to move, a couple of in apartments with three students instead of the customary two. this occurred just as we had a whole new batch of students arrive after the first of the year. Let's say this right here – our students have been great!
Okay, our insurance is covering the damage. We're working with 5280 Disaster Restoration and R3NG/CP&M will replace the roof. And we are really thankful to be working with these folks – really thankful!
That January storm was more like a typcal Colorado spring storm – lots of wet, heavy snow. Lots of moisture content. For the past few storms, R3NG/CP&M crews have been shoveling snow from the roof in order to prevent more leakage. fortunately, we haven't had a big snow storm in the past month, just smaller ones. Replacement of the roof was initially set for last week, but the temperatures need to be above 40 degrees. The bittercold of last week turned into a heavy snow last night – eight to ten inches. Today the sun came out and that snow started turning to water very fast.
And the roofing crew from R3NG/CP&M got right on it. Because various pieces of equipment have already been waiting in our apartment parking lot, they were able to put snow blowers on the roof this morning, ensuring they could get the snow off in time to avoid serious further damage.
What a sense of relief when we found out that they were up there, maybe even a few tears. And as the temps continue to rise, we're still on track for the roof replacement to begin on Monday!
Yes, thankful!