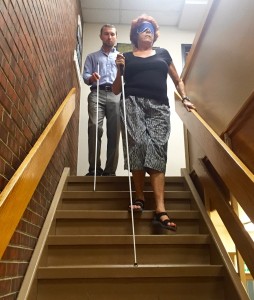 Six remarkable women made up our late-summer Seniors in Charge the week of August 31 to September 4. Ranging in age from 58 to 90, it didn't take long to figure out that each of them were accomplished, dynamic people, and had been all their lives. They came to Seniors in Charge because they intend to remain that way.
Three of the women came from the Grand Junction area and one returned from Mexico, where she retired after living and working in Denver. It was an intense and demanding five days and six nights, of course including Braille, cane travel, assistive technnology and home management skills. Though sleepshades are optional during Seniors in Charge, they are encouraged, and each student took on the challenge at least part of the time during the week.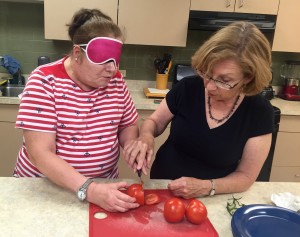 "I sliced my tomatoes better with sleepshades on than I do with my remaining vision," one student marveled about her kitchen experience.
"I learned that I love Braille!" said Vickie. "I thought I was just going to do the class because it was required, but I really love it!"
"I'm not staying in my room anymore," Alice announced at the closing Friends and Family Seminar. From Grand Junction, she still has the Brooklyn accent of her youth. "I had everything worked out, everything I needed in my room, and I wasn't going to leave that room unless someone came to take me, but I'm not staying in it now!"
Duncan, Anahit, Wayne and Petr devoted their entire week to the program. Duncan, Wayne and Petr stayed at the Center's McGeorge Mountain Terrace apartments, traveling back and forth with their students every day.
And special thanks to our two trusty volunteers, Diane McGeorge and Janet Williamson, who tag-teamed the Braille instruction.
There is talk, probably just idle talk, of a class reunion in Mexico!