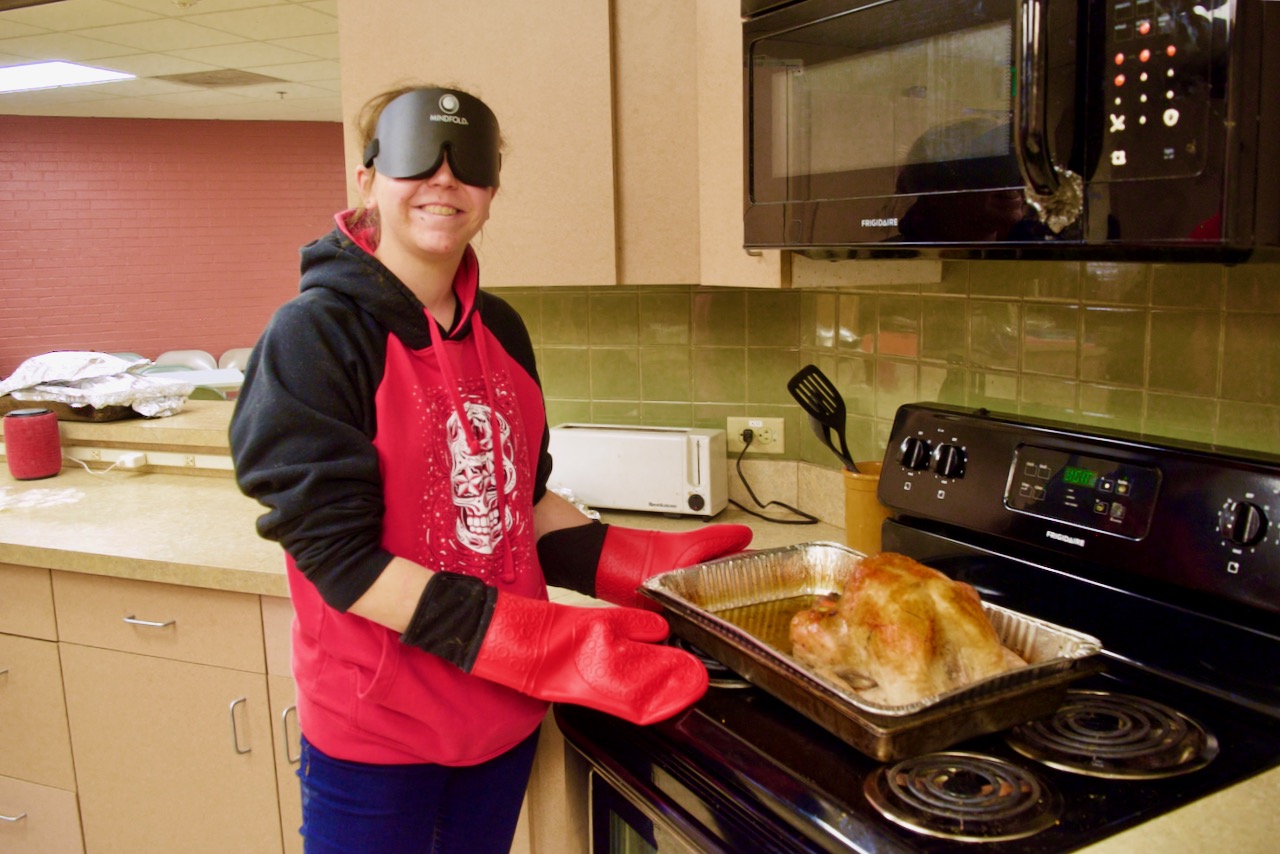 Colorado Gives Day 2019 is December 10, and it's the tenth year of this highly successful program to encourage online giving to Colorado nonprofits like the Colorado Center for the Blind. And were proud that we've been a part of Colorado Gives Day from the very first!
Sure, we'll gratefully accept donations any day, any time, but Colorado Gives Day on December 10 gives all of us some distinct advantages. Let's mention, um, 10 of them!
This is the giving season, and Colorado Gives Day comes at the time of year many of us are already thinking about giving.
Your gift goes further! Giving on December 10 qualifies your gift to be part of Community First Foundation and First Bank's $1 Million Incentive Fund. In other words, our percentage of the total Colorado Gives Day contributions will qualify us for the same percentage of the $1 Million Incentive Fund, thus boosting your contribution even further!
Credit card fees are only 2 percent! Can you believe that? Community First Foundation has the lowest fees around for giving, and that means more of your gift comes to us!
Give Where You Live! Your gift helps our blind students from age 5 to 105 right here in Colorado through programs like Seniors in Charge and Confidence Camp/BELL Academy. And when you make your gift, you can direct it toward the program that is most important to you!
Give Back! Four our alumni and their families and friends, it's a great chance to give back for the confidence and independence they have gained from CCB.
Give Early! You can go to Colorado Gives right now and schedule a gift for December 10 to gain all the other benefits. that way you can move on to other important things on your holiday checklist!
Make a Recurring Donation! If $100 seems like a stretch, especially during the holidays (even though that's how much you'd like to give), try the recurring donation option. You can give $9 per month, for example, and your total of $108 won't feel like such a big bite out of your budget when it's spread out that way!
Support Self-reliance and Independence! Your gift supports the programs we've developed that are still revolutionizing training for blind people around the world! We teach skills, but with high expectations and challenges, we instill confidence in our students that they can live the lives they want.
Be a Part of Our Story! "I learned I don't have to stay in my room anymore!" That was Alice's story after attending our intensive five-day Seniors in Charge program. "(When I lost my vision) I was just going to stay in my room and never leave unless someone came to take me somewhere. Now I'm not going to stay in there anymore!" and in the years since Alice said that, she's been true to those words. She is still living an active, independent life as a blind senior.
Be a Part of Our Positive Philosophy about Blindness! Eleven-year-old Chloe is. "They will help provide me with the confidence and resources I need to successfully get through Middle School, High School, and hopefully College and Medical School," she says. "I like to talk with people who get it."
"Wait! Where do the turkeys come in?"
Oh yeah, The turkeys are the four that our students prepared this week for today's annual Thanksgiving feast, scheduled for 12:30. They're all cooked and carved, along with two hams. this is our time to share in this tradition together over a meal made entirely by students. It also includes a hotel pan each of sausage sage and pineapple stuffing, two of mashed potatoes with cream cheese herb, two kinds of sweet potatoes, one with apple and the other with marshmallows, green bean casserole, wild rice, homemade cranberry sauce, homemade gravy, and a dozen dozen homemade dinner rolls. Dessert will be four pumpkin and four pecan pies, all made by our students!
That's a lot of food, but there will be about 60 of us today, and all of us have plenty to be thankful for, not least of which is that we are lucky enough to be part of the Colorado Center for the Blind, as students, seniors, teachers, or doing other jobs. And we are thankful for all of the support we receive all year from volunteers, donors, friends and neighbors here in Littleton!